Karma Healthcare offers e-Doctor clinics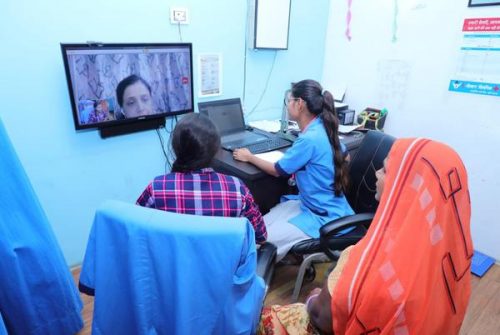 Healthcare developed to some extent in urban India, still, there is a lapse in rural India. Many rural areas in the country do not have basic health facilities. As a result, several people have to travel long distances to get treatment for their ailments.
Lack of timely medical help leads to several chronic health conditions among rural citizens. Jagdeep Gambhir was a witness for all this when he was working on a project about developing technology to control tuberculosis.
He found that rural India lacks quality healthcare. To provide quality healthcare in rural areas and to help them get timely medical help, he started Karma Healthcare.
This healthtech startup provides healthcare services on a phone or video call.
Karma Healthcare is an Udaipur-based startup. He wanted to leverage technology while providing healthcare services.
Yet, the company faced technology adoption issues and internet related problems in the beginning.
Hence, the company launched e-Doctor clinics assisted by a nurse. They employ trained nurses from the same areas to serve at the clinics and provide primary health checkups. After that, the nurse will connect the patient with a certified doctor through a video call.
A diagnostic lab to detect the diseases and pharmacy to provide essential medicines have also been established in these clinics.
All these services are offered at a nominal price of ₹200 while the cost for medicines will be extra based on the medicines.
So far, Karma Healthcare has established 35 'e-Doctor Clinics' in villages across Haryana, Rajasthan, and Madhya Pradesh.
Around 1.5 lakh patients have been treated using their services. The company has 92 employees.  These include doctors, nurses, and outreach workers.
Karma Healthcare is operating in two directions; one is the non-profit side. It mainly focuses on creating awareness programmes, providing healthcare services etc.
Another is the profit-making side which uses technology to make money to initiate activities under the non-profit side.
Image Reference: Thebetterindia
What's new at WeRIndia.com