Professor makes Coconut Leaf Straws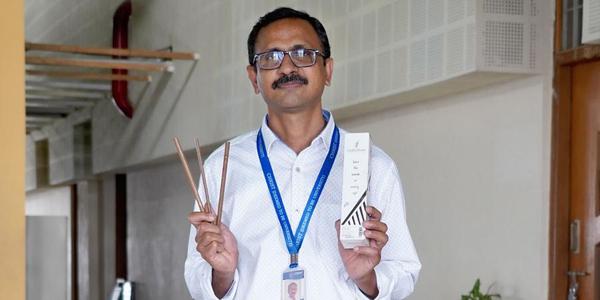 Coconut tree has many uses. Coconut leaves are widely used to make different products brooms, bags, toothpicks.
A professor in Karnataka used these leaves to make straws. Saji Varghese, professor of English at Christ University in Bengaluru used to notice that coconut leaves were falling in the college premises.
It is a natural process for the tree to shed the leaves each year. He also came to know that these leaves are burnt as they are seen with no value in rural areas.
Then the professor decided to make a useful product with these leaves which could be a plastic alternative.
He made straws with coconut leaves with a diameter of 3-13mm to be sold at ₹3-10 per straw. They are four to eight inches in length. He said that 600 straws can be made from each coconut frond. These straws have a shelf life of six months and can be used in hotels and restaurants.
The four-inch straw has the midrib of the leaflet, whereas the eight-inch straws do not have the midrib. The dry leaflets are made cylindrical after cutting them into the desired length. In order to increase the shelf life of the product, wax is used. It also helps retain moisture.
He sent samples of his straws to different countries like the USA, Canada, the UK, Australia, Malaysia, Philippines, Spain and Germany, and the authorities approved the product.
His project was supported by the college with funds. He bought low-tech rolling machines to make the straws. So far, he received over 20 million orders from across the globe and thus he could bag the orders worth ₹6 crores.
He established three units in villages across Madurai, Kasargod and Tuticorin. He is empowering rural women who collect coconut fronds and make straws. He aims to employ 500 women in the next three years.
Image Credit: New Indian Express Website Screenshot
Image Reference: https://www.newindianexpress.com/cities/bengaluru/2020/jan/11/prof-designs-coconut-leaf-straws-bags-orders-from-abroad-2088052.html
What's new at WeRIndia.com