Community Kitchens save Rural Women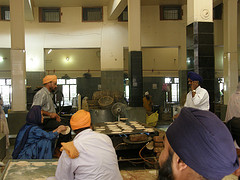 In cities, women use LPG stoves for cooking and they can't imagine their lives even for a single hour without them. They are ready to pay extra money if they don't have additional gas cylinders to cook. But in rural areas, it is not the situation. Many women use firewood for their cooking.
It consumes so much of time and affect their health badly. But, the poor women have no option as they are unable to afford LPG stoves.
To relieve their troubles, community kitchens have emerged in many rural areas of Rajasthan, Gujarat and Maharashtra.
Under this concept, a group of four or five families are given a gas connection under the name of the poorest woman from them.
They can utilize the stove by paying a nominal daily fee.
In some tribal villages of Maharashtra, Hindustan Petroleum Corporation Ltd in association with the petroleum ministry established a community kitchen with some stoves and gas cylinders.
This saves the time of rural women as well as money.
Now these women are happily working for their livelihood to improve their standards. Many voluntary organizations also extend their support to this programme.
In another community kitchen concept of Bohras in Rajkot, cooking is done in these kitchens and sent to community members for a subsidized prices. Majority of them are willing to pay for the price fixed by the organizers.
The intention behind this concept is to relieve the burden of women who spent most of their time on cooking and spend their time on constructive works.
Whatever mode of community kitchen it is, these kitchens relieve rural women from the burden of cooking and help to improve their economic standards by utilizing the time in productive works.
Community kitchens help women in solving health hazards associated with cooking on firewood.
What's new at WeRIndia.com