Rajamukhi – Mother to 28 orphans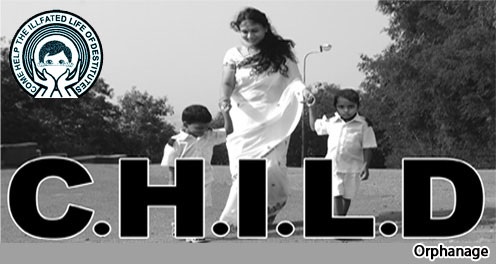 Last year, the cyclone Jal hit the coast of Vizag very hard leaving a lot of destruction for the city and many lives. During this time, the organization C.H.I.L.D (Come Help the ill-fated Life of Destitute) received a phone call requesting to save the lives of two babies who were abandoned at Daba Gardens. Meet 'Amma' K Rajamukhi of CHILD who took this call.
Rajamukhi and her husband K Prasad went to the place and rescued the two month old female twins. These children were taken to CHILD where they joined 26 other children who are living securely. Rajamukhi was the founder of CHILD in 1995. She wanted to save orphan children with the help of this organization. Even though she was advised against this by her friends and her well-wishers, she took the bold steps to achieve her target and succeeded. After 13 years of hard work CHILD now has 28 children under its protection. The children call her 'Amma' which means mother in Telugu.
CHILD was started in a small rented building when Rajamukhi saw two orphans. These were the first two children of CHILD organization. Later, with her relentless efforts she managed to save many more and became an inspiration.
What's new at WeRIndia.com