Grain Bank Satisfies the Hunger needs of Kotrakund Villagers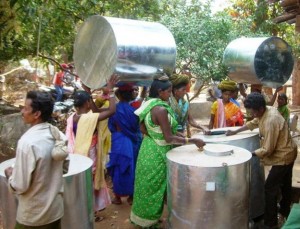 Life is not a bed of roses. The stories of villagers can be tragic especially in situations where loans are not repaid. This is very true for the poor in rural India.
The tribal people in Kotrakund village of Koraput district in Odisha had faced these challenges before establishing grain bank in their village.
Over half of the population are agricultural labourers in this village. Due to lack of proper irrigation facilities, they are unable to feed their family.
To meet their family needs, they have no option other than to borrow from the Sahukar (money lender) at 50 percent interest.
When they fail to repay their loans, the Sahukar would take all their harvest. This makes their situations worse.
But, those days are gone with the establishment of grain bank by Bidyut Mohnaty. He holds an M.Phil – tribal studies post-graduation. He setup grain bank for tribal people to eliminate their hunger needs.
Each family contributes 3 to 5 kilograms of grain to this bank from their harvest each year. The collected grain is kept in this bank and is lent to people in need. The amount of grain taken as loan will be repaid from the harvest by them. The bank works under the supervision of self-help groups.
The secretary of these groups maintain the accounts which include the amount of grains received and spent, the details of grain borrowers etc. The remaining grains after being lent are sold in the market.
The sale proceeds are given as loans to the people in need at nominal interest. The grain bank is a huge success in the initial year in which it was established by acquiring 30,000 kilograms of rice and 44,000 kilograms of millets.
500 families took grain loans in that year. Due to the success of this grain bank, nearly 200 grain banks are established in the surrounding villages of Koraput district.
Now the tribal people of Koraput district are happy as they are free of hunger and bondage of Sahukars.
What's new at WeRIndia.com