Worknhire – a freelance marketplace in India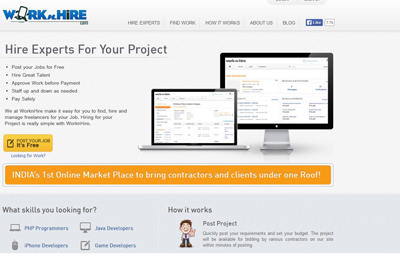 Worknhire.com is made by Worknhire Technologies Pvt Ltd. The aim of the website is to help freelancers find clients in India. The website acts as a common marketplace for both freelancers and Clients looking for them. The founders of the website are Kumar Mukul and Manish Prakash. They got the idea to start this website after seeing the demand for freelancers among many startups and small business.
At the same time, there were also many freelancers looking for work. Keeping this in mind, the platform was designed specifically to fit the Indian market. Hence it acts as a solution for the Indian freelance market.
On the website, people can post about projects in various categories like IT & Programming, Graphic Design, Content Writing, Data Entry, Finance and Sales & Marketing. The website is absolutely cost free to use and the users do not have pay money at any stage of posting an ad.
Co-founder Kumar Mukul graduated from IIT Kharagpur with a B.Tech in Industrial engineering. He takes care of the technical and marketing aspect of the website at the same time took the role of lead developer and the chief architect.
Manish Prakash, the other co-founder graduated from IIT Guwahati with a B.Tech in Chemical engineering. He oversees the legal and marketing aspect of the website.
What's new at WeRIndia.com