Solar powered and Self-cleaning toilets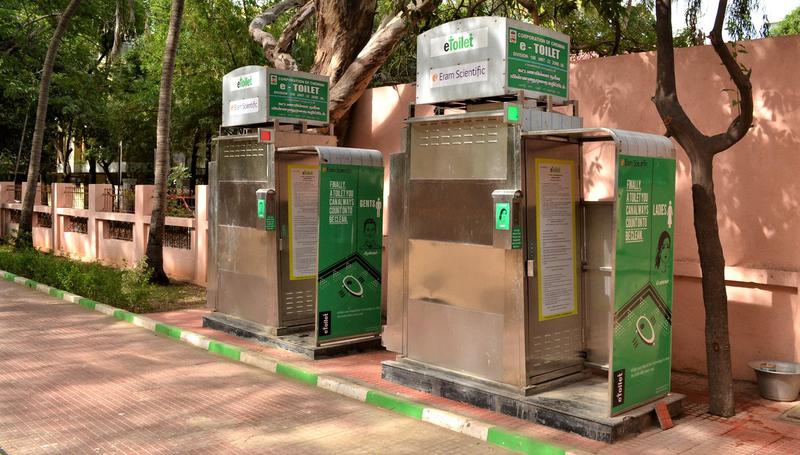 India's poor sanitation conditions have not improved very much in the past century. Diarrhea, one of the most common diseases caused by it, is the main reason why the rate of child malnutrition is not improving faster, despite rising income levels and better diets.
At least 50% of malnutrition in India is caused by repeated diarrhea or intestinal worm infections, which are caused by poor sanitation and unclean water. Diarrhea is also the leading cause of death for Indian children under the age of five.
Poor sanitation is especially concerning for women, since open defecation exposes them to dangers such as snake bites, sexual assaults, or physical assaults. It also leads to shame and fear among many Indian women, and young Indian girls may even skip school if the school has no clean sanitation facilities.
With India's sanitation problems causing so much strife, disease, and death across the country, Eram Scientific Solutions, an R&D social enterprise based in Thiruvananthapuram, is working to solve these issues.
Their approach has been to come up with innovative and easily-operated alternatives that can change the way public sanitation works in India.
Thus, they have developed e-toilets, which consist of a sleek steel cubicle equipped with several electronics, allowing it to function as a toilet that is automated, solar-powered, and self-cleaning.
There are several innovative features to e-toilets that redefine the way sanitation works. They flush themselves with a minimum amount of water before and after every use, determined through sensors. Their lights turn on automatically, powered by the solar power acquired by built-in solar panels. They are also cost-effective, costing about ten times less than a toilet in Europe with similar technology.
Eram Scientific Solutions has even created a "Smart She" toilet for women, which is equipped with a sanitary napkin vending machine, a napkin incinerator, and baby feeding and diaper-changing stations.
With these self-maintaining, efficient, and clean toilets making their way through the country, India's sanitation conditions may soon see significant improvements.
Image Reference: TheBetterIndia, Flickr
Recent Posts

Arham Om Talsania, a six-year-old boy from Ahmedabad

The US uses ballot voting compared to India,

Considering the needs of diabetics, diet freaks and
What's new at WeRIndia.com