Modi: Remove fear of harassment among taxpayers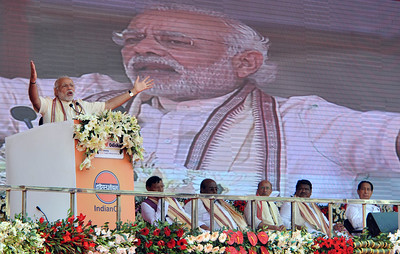 A statement was released by Prime Minister Narendra Modi to the tax officials today. He asked them to not cause fear of harassment to the minds of taxpayers. He said that the officials should focus on five pillars of administration — revenue, accountability, probity, information and digitization (RAPID).
The two-day Rajasva Gyan Sangam was inaugurated in the Nation capital by the Prime Minister. During that, he asked officials to move towards digitization. He said that going the digital root will help in making tax administration better and efficient. He added that doing so will improve the trust that people are losing.
If transparency increases citizens would have less fear or mistrust in the administration. He said that the officials should work towards removing any fear of harassment from the minds of taxpayers. He added that their behavior toward people should be soft and sober.
The two day conference held in New Delhi also had Finance Minister Arun Jaitley and senior tax administrators of Central Board of Direct Taxes (CBDT) and Central Board of Excise and Customs (CBEC) participating.
The Prime Minister also talked about the low number of tax payers in country. He put emphasis on increasing the number. At present there are 5.43 crore tax payers he said. He aims to increase that number to 10 crore.
Rajasva Gyan Sangam was inaugurated on June 16. The meeting is to discuss about various issues related to taxpayer services and effective implementation of fiscal laws and government policies. It is a two day annual event.
This time, the Rajasva Gyan Sangam will not just have technical sessions of the CBDT and CBEC but the inaugural and valedictory events will be held together. This is happening for the first time and the finance ministry is taking extra care to make this event successful.
Image credit: PM Modi in Odisha image by Narendra Modi is licensed under CC BY-SA 2.0
Image Reference: https://www.flickr.com/photos/narendramodiofficial/25013090726
What's new at WeRIndia.com