India and Trump administration to maintain strong relations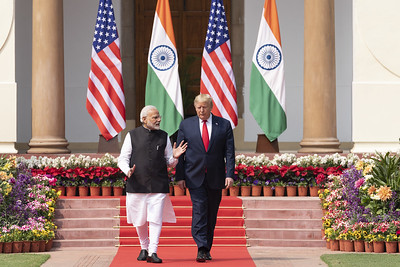 Despite recent events, Foreign Secretary S Jaishankar has assured that Indo-US relations will continue to grow strong.
He said that Prime Minister Narendra Modi government already made an early contact with President-elect Donald Trump's transition team.
India and Trump cadre had a great conversation recently says Jaishankar.
The outcome of the talks show that there are many common interests and concerns he adds.
Talking about the relations between India and Russia, Jaishankar said that both sides are interested in strengthening the relationship between Russian President Vladimir Putting and Indian Prime Minister Narendra Modi.
He said that in the past two years, the relations between the two countries has grown strong.
US and Russia aren't the only countries India's relationships has grown stronger with.
Japan has also grown to be an important part in Indian's modernization.
The government of Modi is giving a lot of attention to maintaining strong foreign relations with the United States, Russia, Japan and other major global powers over the past two and a half years says Jaishankar.
India and the other major powers have similar opportunities and challenges which increased the desire to cooperate he says.
Considering the present Indian economic priorities and security plans, the cooperation with such countries is important.
Prime Minister Narendra Modi said that in his talk with US president elect Donald Trump, both countries are willing to keep increasing the relationship for strategic mutual benefits.
Prime Minister Modi stated this in his address at the second Raisina Dialogue.
He further talked about other countries as well. Talking about how India is evolving and its interests, Modi said he and Russian President Putin had long conversations on various common problems faced all over the world.
He said in the past two and half years, the strategic partnership with these countries especially in terms of defense has improved very much.
Image credit: President Trump and the First Lady in India image by The White House (Public Domain Mark 1.0)
Image Reference: https://www.flickr.com/photos/whitehouse/49583812737
Recent Posts

Shubham Saini runs a tea stall named Frustrated

Airtel and Jio already said that 5G services

Buns & Deluchas is a Mumbai startup that
What's new at WeRIndia.com