Russia is India's main defence Partner: PM Modi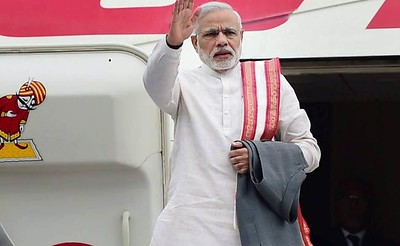 Prime Minister Narendra Modi assures that Russia will be the principal defence partner of India and both the countries will work jointly to manufacture the innovative defence equipment under the Make in India mission in India.
PM Modi to Itar-Taas, a Russian news agency said that Russia has been the leading defence partner of India for decades. It contributed for most of India's defence equipment. Despite the improved access to global markets for India, Russia will remain the chief partner.
He added that India would never forget the support of Russia in times of need.
In this context, both the countries are expected to sign many deals in a variety of areas that include nuclear energy and defence in the Indian PM's Russian visit starting from December 23. During this visit, there will be a discussion on the annual summit with Russian President Vladimir Putin.
The relations of India and Russia in defence sector have changed from buyer-seller relationship. Now, both the countries are conducting joint research, developing and producing advanced systems like Sukhoi-30 MKI aircraft, Brahmos cruise missile and T-90 tanks.
Prime Minister Modi said that Russia would be the chief partner in the Make in India initiative in the defence sector and both the countries will soon start to work in that direction to jointly manufacture defence equipment and constituents in India.
India has made agreements with the US. Similarly, Russia has also made proposals to work with Pakistan for the first time. At the same time, both India and Russia would work jointly to manufacture defence equipment.
Modi added that India is dedicated to build minimum 12 nuclear power plants that have the highest safety standards in the world with the support of Russia. Energy security is vital to the economic development of India and Russia is an important partner in this field. The teamwork of India with Russia to gain peaceful use of nuclear energy is the basis of strategic partnership of both the countries.
Image credit: Narendra Modi image by Jhon Don is licensed under CC BY 2.0
Image Reference: https://www.flickr.com/photos/146931246@N07/29542111756
What's new at WeRIndia.com