112 feet shiva statue unveiled by Modi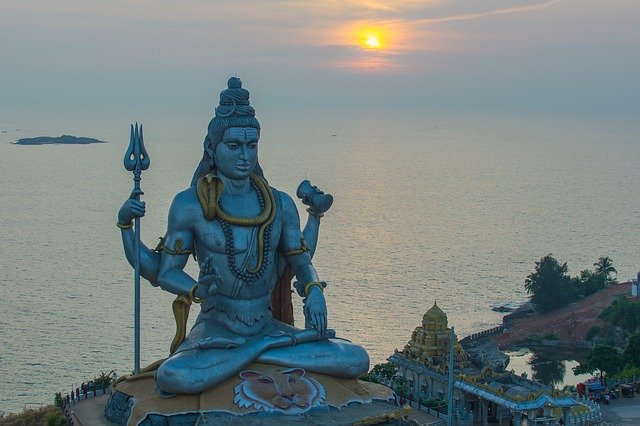 On the festival of Mahashivratri, Prime Minister Narendra Modi unveiled the 112-feet tall statue of Lord Shiva in Coimbatore.
The statue which was funded by Sadhguru Jaggi Vasudev's Isha Foundation is in the form of Adiyogi, one of Shiva's forms.
Modi arrived in Coimbatore to unveil this statue. He unveiled the statue at around 7:30 PM.
This magnificent structure was designed by a team of engineers and designers for more than 2.5 years. It took about eight months to construct it.
Since there were so many protests, the security at the statue has been high.
Modi said to the people that just because an idea is old doesn't mean it should Rejected.
He added that India gave the gift of Yoga to the world. It is a way of spirituality and exercise, he said.
Sources say that this is one of the four 112 feet tall statue that are being set up by Isha Foundation.
Three more of these statues will soon be unveiled in in eastern, northern and western India. They will all be statues of the Adiyoga form.
Speaking about the statues, Adiyogi Sadhguru Vasudev said that they are for the next generations. The increasing focus on science and reason will cause philosophies, ideology, belief systems that don't follow logic and scientific verification to dissipate, he said.
He added that people will look for more logic and sense and in that case, the Adiyogi and the science of Yoga will prevail with the statues serving as a reminder.
The statue was made to be 112 feet tall to signify the 112 chakras in the human system.
The statue did meet some backlash by people of the area. Some tribal associations in the region alleged that the statue does not have the required approvals. They protested that it was not approved by the Hill Area Conservative Authority.
Image credit: Image by Harikrishnan Mangayil from Pixabay (Free for commercial use)
Image Reference: https://pixabay.com/it/photos/signore-shiva-shiv-hindu-dio-4045702/
What's new at WeRIndia.com