Wonderful benefits of Walnuts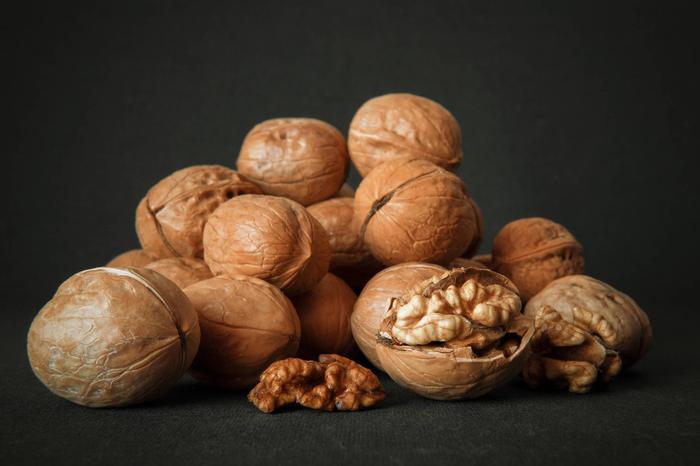 Walnut is good for your brain. It has many wonderful benefits.
Research proves that three tablespoons of walnut oil can improve your blood vessel condition within hours. According to Dr. Penny Kris Eterton, professor of nutrition at Penn State University in Pennsylvania, the consumption of a handful of walnuts for at least four days a week can substantially lower the risk of cardiac ailments.
Walnuts comprise of many rare and potent antioxidants which help protect aging related issues. The antioxidants in walnuts can be found only in some foods.
Walnuts have biotin (vitamin B7) which helps strengthening hair and improve hair growth. It also prevents hair fall.
Walnut is a rich source of omega-3 fatty acids. Hence, it improves memory and cognitive function. It reduces the risk of depression.
Researchers of Harvard School of Public Health say that eating at least 30 grams of walnuts for five times or more in a week reduces the risk of type 2 diabetes by nearly 30 percent. Walnuts contain monosaturated fats and polyunsaturated fats which are beneficial for insulin sensitivity.
Walnuts aid for digestive disorders and improve bowel functioning.
Walnuts are loaded with vitamin B, vitamin E and antioxidants which benefit the skin.
The fiber and protein in walnuts make you feel full before your meal. This helps lose weight by preventing overeating.
The phenolic compounds like ellagic and gallic acid, omega-3 fatty acids and gamma tocopherol, and other minerals such as selenium help prevent cancer.
Pregnant women can consume walnuts to lessen the risk of developing food allergies in their babies.
Eating walnuts thrice a week can increase longevity. It improves the quality of life as well.
The essential fatty acids promote bone health by improving calcium absorption and deposition. At the same time, it lowers urinary calcium excretion.
The omega-3 fatty acids fight against inflammation in the body. Walnuts also alleviates the symptoms of PMS. Walnuts can be concluded as a healthy unsaturated fat.
Image Reference: Nuts.com
Recent Posts

Some people and NGOs are working to harvest

These corn dolls are customized to the need

Shrikhand is one of the popular desserts made
What's new at WeRIndia.com