Carbon Zero Challenge (CZC) 2022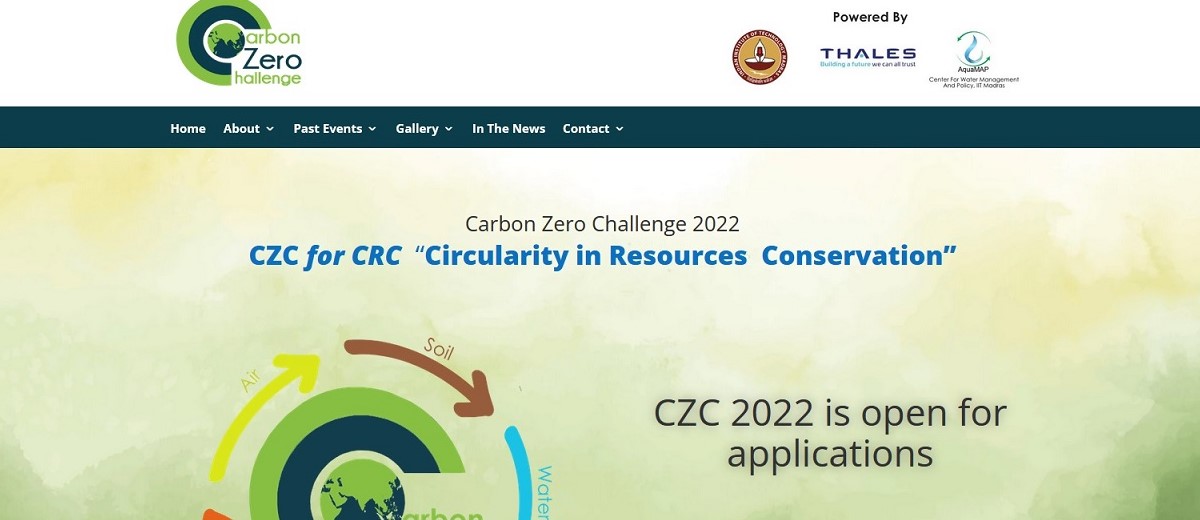 Carbon footprints lead to the generation of greenhouse gases. It depends on various reasons. Currently, the carbon footprint of a person in the United States is one of the highest in the world at 16 tons.
The average global carbon footprint is nearly 4 tons. Various countries aim to drop to below 2 tons by 2050 to avoid a rise in global temperature.
India aims to achieve net zero emission by 2070. The government and many social enterprises are taking various steps in this regard.
Citizens are encouraged to reduce the usage of resources. Carbon Zero Challenge (CZC) aims to encourage eco-innovation in the country. Indian Institute of Technology Madras (IIT-Madras) launched this initiative aiming to identify tech innovations and support them financially.
It mainly focuses on eco-innovations to save the environment from pollution. The first edition of the Carbon Zero Challenge was launched in 2017.
Now the third edition of Challenge was announced by IIT Madras. Innovators can participate in the competition and submit their working prototypes or pilot projects.
Short-listed candidates will get support financially and by way of mentoring to launch startups. They will also be given support to bring their ideas to life and market them through commercialization.
In addition to that, winners will get a start-up seed grant of ₹10 lakhs. Besides, they can get constant support from IIT-Madras. They can incubate their startups at IIT Madras in addition to getting financial support from Angel investors and VCs.
The theme of this year is Circularity in Resources Conservation. The intention is to emphasize the need to balance both demand and supply through the conservation of resources.
Participants need to design ways to reduce, recycle or reuse resources to achieve a low carbon footprint.
Candidates will be shortlisted by October 2022. It is expected that approximately 100 teams will be shortlisted. Out of them, 25 teams will be funded for their prototype. Each team is given up to ₹5 lakhs as prototype funding.
The last date is 24th September to apply for the competition. Visit their website to know more details about the application process and other things.
Image Credit:  Czeroc Website Screenshot
Image Reference: https://czeroc.in/
What's new at WeRIndia.com