IITian's innovative and unique wheelchairs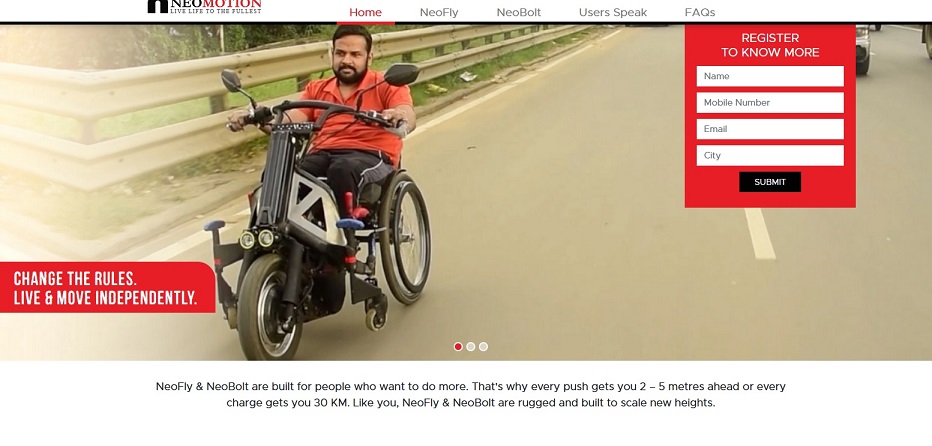 Nowadays, many startups explore ways to identify the needs of specially-abled people and address the issues.
NeoMotion is one such startup that provides unique wheelchairs for people with disabilities. Swostik Dash is the founder of the startup.  His startup aims to cater to the needs of the differently-abled.
Swostik Dash is an alumnus of IIT-Madras. Innovation is his passion. During his college days, he used to spend most of his time on innovations. He realized that many people with disabilities are struggling due to several problems. He wished to find out solutions to at least some of them.
That's why he decided to work on a project that would bring a positive change in the real world. As part of his education project, he developed a concept of a swimming pool lift for people with disabilities.
It is the beginning of his innovations for differently-abled people. Since then, this mechanical engineer has created many innovative designs.
Later he founded NeoMotion to serve people with disabilities. Dr Sujatha Srinivasan, one of his professors, accompanied him in this regard.
The company designed two innovative wheelchairs. The first model is NeoFly. It offers 18 types of customization. It comes in different colours and sizes. It offers different back support heights and seat belt fittings.
The second model is NeoBolt, which can be modified to make outdoor mobility easier for users to move independently. It has an attachable front scooter which can be clipped to the chair by users themselves. They can use it as an on-road vehicle. One can travel up to 30 km per charge.
These wheelchairs ease the lives of users, and they can travel across the country as they wish and whenever they want without depending on others. Thus, Swostik empowers people with disabilities.
Image Credit: Neomotion Website Screenshot
Image Reference: https://www.neomotion.in/
What's new at WeRIndia.com