UBreathe: Plant-Powered Air Purifiers for Clean Indoor Air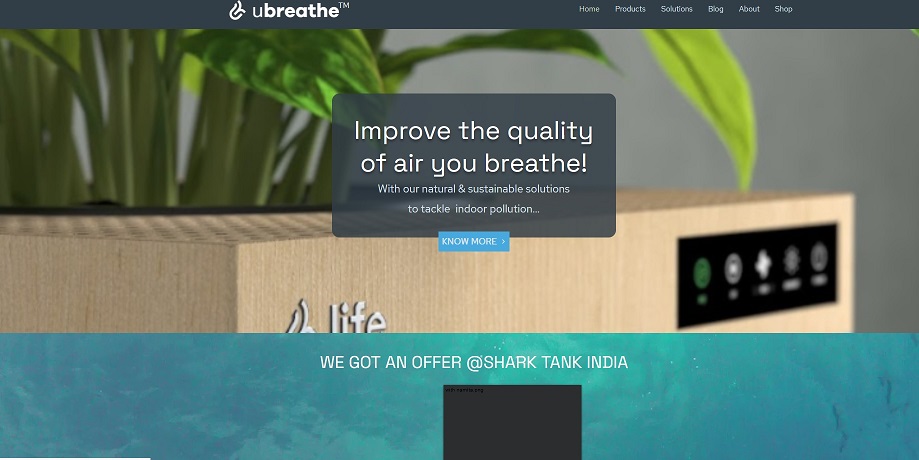 Air pollution is a significant environmental concern that affects people's health and well-being worldwide.
Exposure to polluted air can cause respiratory problems, heart disease, stroke, and other severe health issues.
With rapid industrialization, urbanization, and a growing population, air pollution has become a global crisis.
Developing sustainable solutions to combat air pollution has become an urgent priority.
Innovative startups such as UBreathe are leading the way with their plant-based air purifiers.
UBreathe recently made headlines by securing a deal worth ₹1.5 crores on Shark Tank from investor Namita Thapar. It is a biotech startup focused on tackling air pollution.
The startup has developed a unique plant-based air purifier that combines natural air-purifying capabilities with modern technology.
Unlike traditional air purifiers that filter only dust pollution and have a negative environmental impact, UBreathe's product captures all contaminants in the air. In this way, it works as an effective and sustainable solution for indoor air pollution.
According to a recent study, an average person in Delhi loses 10 years of life due to air pollution. At the same time, states like Maharashtra and Madhya Pradesh also experiencing a significant impact.
Indoor air pollution can be up to five times worse than outdoor air pollution. Traditional mechanical air purifiers fail to address the problem holistically.
UBreathe's patent-pending 'Breathing Roots' technology uses phytoremediation to amplify the natural abilities of air purification through plants.
The technology is tested and certified by NABL Labs. In addition, it has been reviewed and recommended by the faculty of AIIMS Delhi.
The startup's research is backed by premier institutes such as IIT Ropar, IIM Ahmedabad, Meity, BIRAC, and the Nexus US Embassy in Delhi. So far, UBreathe has filed six patents in India and Europe.
The startup has taken on high-profile projects. Some of them include air quality management initiatives with the UN House in Delhi, the Government of Maharashtra, and public primary schools in Chennai.
UBreathe believes that technological innovations can help abate rising air pollution issues sustainably. Their unique approach to air purification is a promising step in the right direction.
Image Credit: Ubreathe Website Screenshot
Image Reference: https://www.ubreathe.in/
What's new at WeRIndia.com