INDOWUD – An innovative and eco-friendly wood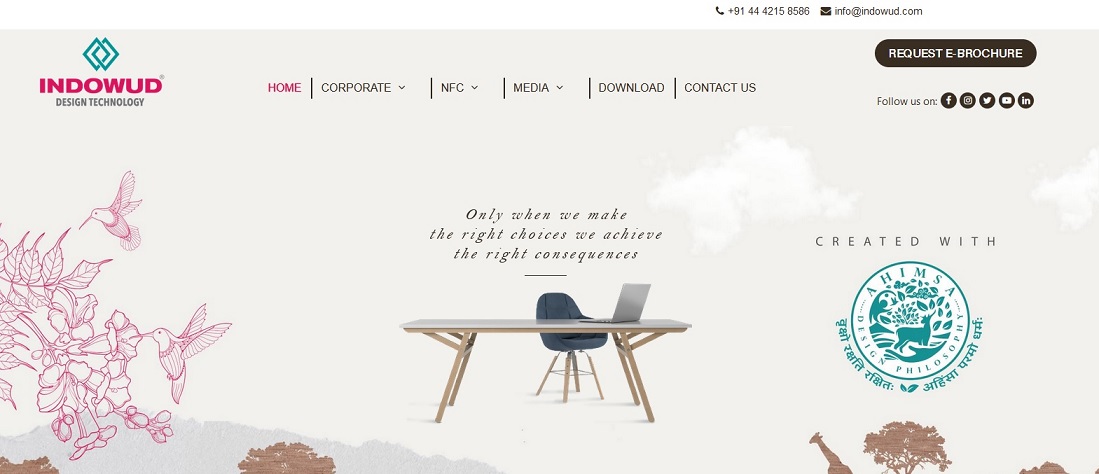 Each year, several trees are cut for wood. To save trees, a Chennai-based company launched an innovative and eco-friendly wood. Milam Sales Enterprises Pvt. Ltd. and Indowud Polymers Pvt. Ltd. jointly launched the wood, Indowud NFC (Natural Fibre Composite Board).
They claim that it is the first eco-friendly wood in the country. It will be a good alternative to plywood.
B L Bengani, who developed the wood, is environment-conscious. He spent more than two years and many lakhs and developed an eco-friendly alternative to plywood. In this way, he wanted to save trees. He succeeded in his attempts and launched Indowud NFC in 2019.
This water-proof and flame-retardant wood is made with agricultural husk. It is completely recyclable and moulded into any shape easily.
Bengani worked in the plywood industry for many years. After working with several companies, he started his own company.
He would import timber logs from other countries. But, after some years, the foreign governments banned the export of the logs. It caused a raw material problem for Bengani's company.
Then, he thought of using eco-friendly alternatives to plywood. That's how his experiments began. He spent a lot of time and money on experiments to develop a sustainable alternative using agricultural husks.
Since agricultural waste poses a threat to the environment, Bengani wanted to utilize it effectively. Thus, it solved two problems in one go. The raw material problem for his company and environmental pollution due to subtle burning.
Bengani procures rice husk from farmers and rice mills around Chennai. Indowud can be used for furniture and exterior applications. It can withstand all climatic conditions, including cold and hot.
Around 5,000 tonnes of raw material are used to make wood. Though the pandemic halted its production, operations have been resumed recently. Now, the company is exporting to many other countries like Australia, New Zealand, Oman etc.
Image Credit: Indowud Website Screenshot
Image Reference: https://www.indowud.com/
What's new at WeRIndia.com