Youth makes organic fertilizer and sells cheaper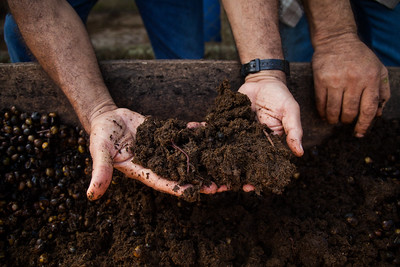 Organic fertilizers help retain the fertility of the soil and yield better returns in the long run. The products grown with organic fertilizers are good for health as well. Unlike chemical fertilizers, they do not damage the environment.
For all these reasons, some farmers are turning to organic farming. Several others want to opt for these methods, but due to certain drawbacks, they cannot do so. One of them is the cost. The high cost associated with organic farming and fertilizers hinders several people from not choosing these methods.
In this context, a youth from Madhya Pradesh made organic fertilizer at an affordable price.
Jitendra Aatodiya, a 22-year-old from Ratlam in Madhya Pradesh, is making and selling organic fertilizer at ₹6 per kg. One kg of organic manure from the market costs around ₹50 to ₹200 based on the brand. But, Jitendra sells organic fertilizer for ₹6 per kg. It is almost 33 times cheaper than other such fertilizers available in the market.
Jitendra has a farming background. Due to his background and interest in farming, he graduated in agricultural sciences.
He learned to make various types of organic fertilizers in the NABARD course. He benefited from the course. He launched a startup Aatodiya Vermi Agritech as soon as finished the course.
Aatodiya Vermi Agritech produces and sells organic fertilizers at an affordable price to farmers.
Though organic farming is more productive than inorganic farming, it takes time for the soil to readjust to the natural methods and neutralize the ill effects of chemical fertilizers. Unlike chemical methods, organic farming does not show the benefit immediately. Hence, many farmers do not show interest in this method.
But, most of the farmers in his area started showing interest when they saw the fruits reaped by Jitendra using organic fertilizers. He also helps farmers make their own organic fertilizers.
Image Credit: Maren Barbee / CC BY 2.0
Image Reference: https://www.flickr.com/photos/27781737@N05/26185245052
What's new at WeRIndia.com