Retired teacher gifts homes to homeless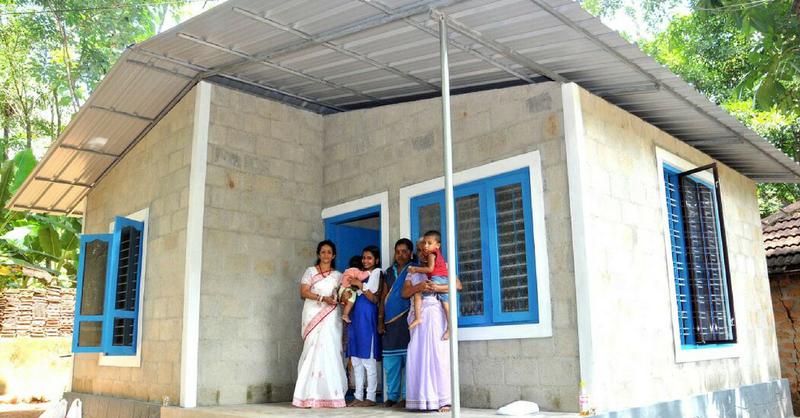 Living in own house is a dream to many people. Especially for the people who strive to meet their daily needs, it is impossible to acquire it in their life time.
Normally many people try to feed the poor if they want to do charitable programs. Others help for education and health. But, this retired teacher had chosen a different way to help the people.
Dr. Sunil, a retired zoology teacher helped the homeless people to acquire homes. So far, 83 homes are being constructed with her help, and handed over to the people that are living in awful conditions.
Each is built in an area of 450 sq. ft. with a hall, kitchen and a bedroom.
Every home has a sitout and toilet. Galvanized iron sheets are used for the roof. Solar lamps or LED bulbs are being gifted to the families to save the electricity consumption.
She started this initiative when she was deeply moved by the desperate condition of her student Asha.
Asha had only a plastic shed which she calls as home. Her grandmother struggled a lot to raise her after she lost her parents. At that time, one day, Dr. Sunil happened to visit her home.
She noticed that there was no door for the home and it was a bare plastic home. A thin dupatta was hung to cover the entrance.
Then Dr. Sunil decided to construct home for Asha.
Three cents of land was donated by the Panchayat and funds were raised through her friends, family members, teachers and students. Dr. Sunil succeeded in her attempts.
Today Asha is working as a teacher. She bought a car in which she goes to school daily. She married an army man. Her daughter is studying in Kendriya Vidyalaya.
Dr. Sunil has been helping the homeless for the last 12 years. She helped the people that live in miserable conditions.
55-year-old Susheela took shelter under an umbrella till she gets the help of Dr. Sunil. Susheela has a diploma in Civil Engineering. Yet, she led a deplorable life. Remaining beneficiaries are also similar to her.
Image Reference: Thebetterindia
What's new at WeRIndia.com