Pad Man of India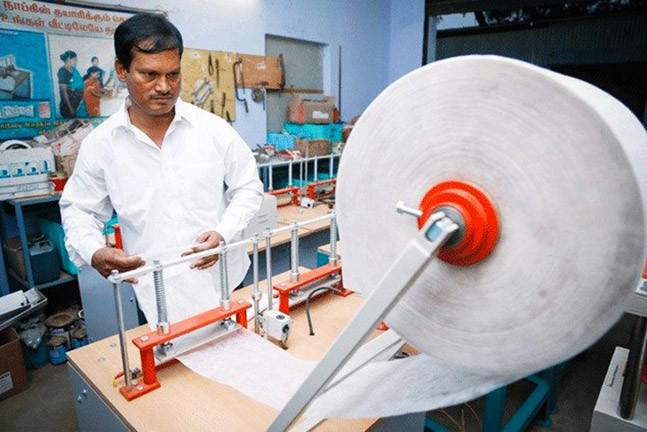 Pad Man is an upcoming movie starring Askhay Kumar. It will be released on February 9, 2018.
The movie is inspired from the life of Arunachalam Muruganantham, a social activist in Tamil Nadu.
Arunachalam Muruganantham was included in Time magazine's list of 100 Most Influential People in the World in 2014. He was honoured with Padma Shri in 2016.
Know how a poor man and school dropout turned out to be the one of the most influential people in the world.
Born in a poor family, he did several jobs including, welding, farm labouring etc. to support his family.
Later, he married Shanthi. His life turned around when he discovered that his wife was using filthy rags during her menstrual cycle due to unaffordability of sanitary napkins available in the market as they are expensive.
He found that the cost of raw materials is 10 paise, but it is sold for 40 times that price in the market.
Then, Arunachalam started experiments by designing cheaper sanitary napkins using cotton for her wife and sisters which were initially rejected by them.
They did not even support his further experiments because they were embarrassed to discuss about it with him.
Then he sought other women in the village who could cooperate with his inventions voluntarily, but none came forward as menstruation is a taboo subject in India.
Then he freely distributed his experimental pads to school girls.
However, it took two years of time for him to realize the sanitary napkins have cellulose fibres of pine bark and wood pulp for more absorption by retaining shape.
Since imported machines are expensive and cost ₹35 million, he devised a low cost machine that costs ₹65,000 which can be operated with simple training.
He sought suggestions from students of IIT Madras when he visited it. He also won the award from National Innovation Foundation for his invention.
He obtained seed funding and founded a firm to market these machines to rural women throughout the country. He earned many awards for his innovation.
He does not want to commercialize his invention, so he rejected the offers he received from several companies.
His machines created jobs for several rural women and solved the problems of poor women and girls as many of them are using these pads happily.
Reference: Wikipedia
Image Reference: Indiatoday, Rapidleaks, Starsunfolded
Recent Posts

GST is a sensitive subject in business circles,

Online casinos that accept Indian players offer enticing

Uber rolled out a new service for its
What's new at WeRIndia.com