Former child-worker runs free school for underprivileged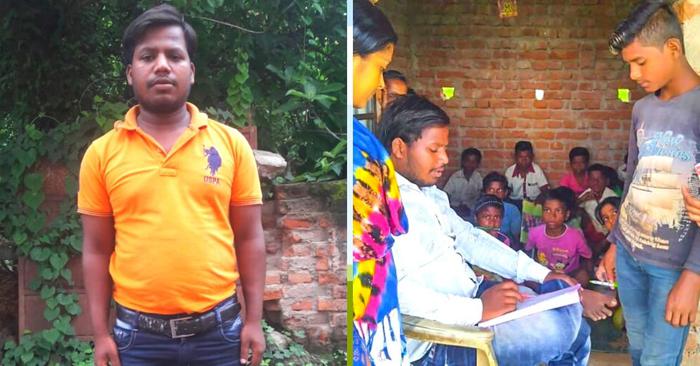 Neeraj Murmu was a child labourer once. Now, this 22-year-old from Jharkhand runs a free school for poor and underprivileged children.
He received the Diana Award 2020 for his selfless services to the society and fight against child labour.
Neerja Murmu worked in dangerous mica mines till 2011 as a child labourer. But, Kailash Satyarthi, the Nobel Peace Laureate rescued Neeraj.
Education changed his life. Neeraj, who wanted to walk in the footprints of his role model and 'Guru', runs a school to educate poor children.
His school was named after Kailash Satyarthi. Neeraj provided education to more than 200 underprivileged children and rescued 20 child labourers from the mica mining.
Neeraj was born in a poor tribal family. His family has seven members. Their family members had to adjust with a single meal per day.
They have two meals only on a few special days. His father is a farmer. He was the sole earner in the family until Neeraj started earning as a child labourer. He joined in the mica mines at the age of nine years.
His mother also does the same work. In Jharkhand and Bihar, it is quite common for many poor families to join the mines as labourers including children.
Several mines prefer children as they can easily reach the narrow mines. Parents need money to feed their families. Hence, they put the lives of their children at risk knowingly or unknowingly.
Children suffer from respiratory diseases due to inhalation of dust. It is also common for most of them to die due to drowning in the ruins.
However, Neeraj and several other children were rescued by the Kailash Satyarthi Children's Foundation (KSCF) that works against child labour.
Neeraj's parents understood the risks when the KSCF told them. They joined him in a government school. Neeraj was admitted in class 8 directly after learning all basic concepts from his father.
Education changed his insight completely and he decided to educate other poor students as well.
His exemplary work was recognized globally and he was conferred with the prestigious Diana Award.
Image Reference: https://www.thebetterindia.com/232364/free-school-jharkhand-diana-award-2020-wins-education-child-labour-inspiring-india-gop94/
Recent Posts

Shubham Saini runs a tea stall named Frustrated

Airtel and Jio already said that 5G services

Buns & Deluchas is a Mumbai startup that
What's new at WeRIndia.com