Farmer earns lakhs with chemical-free crops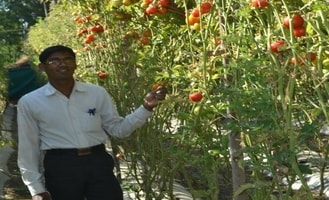 Nowadays, people are ready to spend money on organic and chemical -free food. If you grow organic food, then you can earn lakhs of rupees. But, it is not as easy as one thinks.
Here is the story of a medical student turned farmer earning lakhs of rupees with his handwork.
Akash Chourasiya wanted to pursue medicine. But, during his preparation for AIIMS, he realized that a person's health is mainly depended on the food he/she eats. Hence, he changed his ambition to provide chemical-free food to people.
At the beginning, Akash's family members and friends were unhappy with his decision, yet, Akash fulfilled his aim. Using innovative farming techniques, he is growing chemical-free crops and earning ₹10 lakh ₹12 lakh per year.
He is using a five-layered model which is viable as well as sustainable economically.
He faced difficulties in the first six months. His experimented tomato plant did not produce any harvest until six months. But, after six months by growing 15 feet tall, a single plant could produce 10-12 kg. The size, taste and quality of the tomato drew lots of attention.
Akash planted ginger to the depth of two inches and covered it mud in the first layer which is under the surface of the soil.
In the second layer, leafy vegetables are grown. Akash grew amaranthus.
Then climbers are planted which is followed by planting fruits like papayas at a specific distance.
And the topmost or fifth layer includes creepers like snake gourd, bitter gourd, bottle gourd etc. These are grown on a mesh of wires woven from the roof of the shed.
Akash says that using this five-layer method, he earned revenue of ₹10.5 lakh from one acre of land with a net profit of ₹7 lakh.
Image Reference: Thebetterindia
What's new at WeRIndia.com