82-year-old woman's fasting for Ram Mandir ends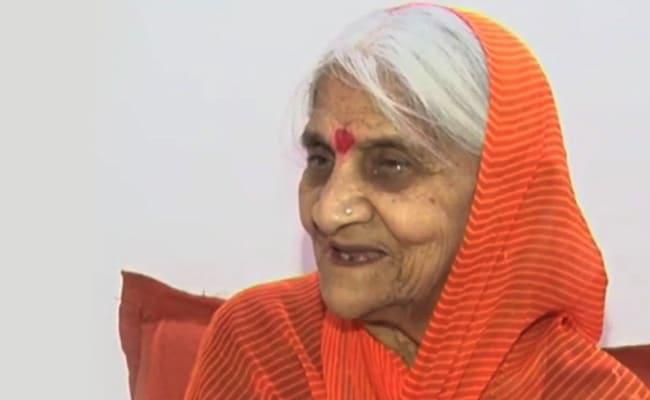 Several devotees of Lord Ram have been waiting for Ram Mandir in Ayodhya. Urmila Chaturvedi is one among them. She took an oath of not consuming food till the construction of Ram temple begins in Ayodhya.
Urmila Chaturvedi lives in Jabalpur, Madhya Pradesh. This 82-year-old woman has been fasting for Ram Mandir since 1992.
When the disrupted structure was demolished in Ayodhya, she was upset and took a pledge to consume food only after the construction of Ram Mandir begins.
Since then, she has been surviving on fruits and milk. Her daughter-in-law Rekha arranges fruits for her. Rekha said that her mother-in-law would never allow anybody to change her food habits despite their suggestion about her age condition.
Urmila is an avid devotee of Lord Sri Ram. She chants prayers of Lord Ram and recites Ramayan.
After 28 years, her wish has been fulfilled. She would like to visit Bhumi Pujan. She wants to break her fast after taking a dip in the Sarayu River.
She even talked to a minister expressing her wish of visiting the auspicious Bhumi Pujan event.
However, she could not visit the ceremony due to COVID-19 restrictions. Moreover, she was told that the list of guests had already been prepared. Though she is disappointed that she couldn't attend the event, she hopes to visit the place soon.
Her family members assured that they will take her to Ayodhya later. Madhya Pradesh Chief Minister Shivraj Singh Chouhan appreciated the reverence of Urmila. He saluted her devotion saying that Lord Ram would never disappoint his devotes including mother Shabari of Treta Yuga and today's mother Urmila.
Urmila wants to spend the rest of her life in Ayodhya. She asked her family members to make arrangements for that.
Image Credit: NDTV
Image Reference: https://khabar.ndtv.com/news/india/ayodhya-ram-mandir-88-year-old-madhya-pradesh-woman-fasting-for-ram-temple-since-1922-2274326
What's new at WeRIndia.com