68-year-old woman is cycling to Vaishno Devi temple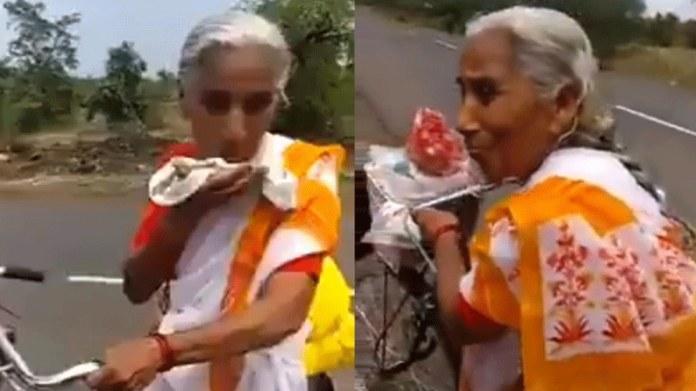 Power of women or Stree Shakti has been worshipped in India since the ancient period. Durga Puja or Navratri celebrations are going on the country to mark it. Navratri festival is a celebration of the divine feminine, Goddess Durga.
In this scenario, it is quite apt to know about this elderly-woman who began her journey to Vaishno Devi Temple on a bicycle.
68-year-old woman, Rekha Devbhankar from Maharashtra started her cycle yatra of 2200 km from Khamgaon in Buldhana to Vaishno Devi in Jammu. She astonished many people by doing so.
Goddess Vaishno Devi temple is located at an altitude of 5200 feet. It needs trekking of 13 km from the base camp. Vaishno Devi temple yatra is one of the toughest pilgrimages. Many people use Ponies, palanquins and horses to reach the temple.
Even many young people feel it difficult, but this elderly-woman decided to complete the tough yatra.
Rekha has a strong will power and perseverance to visit the temple by travelling 2200 km a bicycle. She started her journey on July 24, 2020. She cycles approximately 40 km each day until the sunset. She wishes to reach the temple during the Navratri festival.
Ratan Sharda, a Twitter user shared a video on the journey of the woman. In that video, Rekha was speaking about her expedition and wished to reach the temple during the festival of Navratri.
Netizens applauded her will power to go on a bicycle by travelling 2200 km. Many people are saluting her determination and power.
Some others wished her to complete her expedition safely and reach the temple as she expected. They also admired her strength and courage.
This elderly-woman motivated many young people by doing such a great expedition.
Image Credit: BBC News
Image Reference: https://www.bbbnews.net/68-year-old-woman-embarks-on-journey-to-vaisho-devi-on-her-bicycle-to-travel-2200km-india-news/
What's new at WeRIndia.com