Tiyo – healthcare platform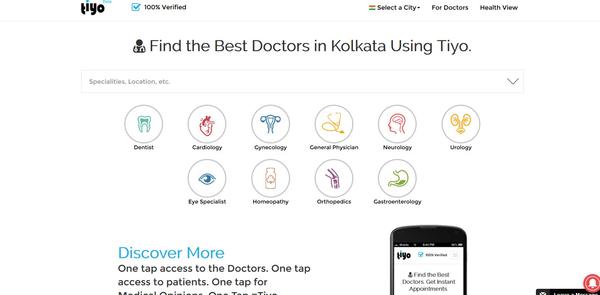 Tiyo is a healthcare startup based in Kolkata. Tiyo allows easy connection between patients and doctors. The startup was launched in May 2015 by Ranna Dutta, Sandip Bodak and Sunil Mishra.
The main advantage the Tiyo offers its users is that there is no need for a smartphone. Users can book their appointments with doctors even with a basic phone. Users can use Tiyo's toll-free number to book an appointment.
The platform gives users a 'Health View' account online. Here patients can find all the essential information about the doctors and call them. They are also provided with more information required for patients to assess which doctors can best handle their case. Users get a good amount of storage capacity for their medical records. They can even get more capacity by paying an annual subscription fee of Rs 700.
The patients are also provided with wearables by the company. They are integrated with Tiyo's IoT platform, or with certified wearables' APK. These wearables help collect data which in turn helps doctors correctly understand the patients' needs and get more information regarding the case.
Users of Tiyo will also get help in lab and call service. Lab assistants provide a home service, if it is possible. The platform also created a social network for registered doctors.
The founders aimed at creating something unique from other healthcare platforms. The platform is aimed at letting users find Doctors of their Requirement and Set Appointments, get Health Tips & Tricks, Get Diagnostics & Physiotherapy at Doorstep and even have consult with the Doctors from the privacy of their homes.
The doctors would also get more patients their way. The cases can be studied easily by the doctors with the information available at the tip of their fingers. The digitized information makes case management much easier for both doctors and patients.
Image Reference: Tiyo.in
What's new at WeRIndia.com