Cancer Survivor's Wireless Biosensor eases patient monitoring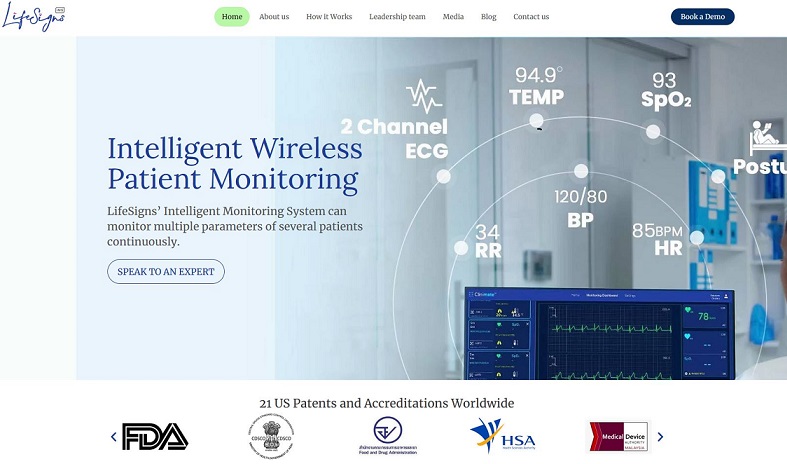 A wireless biosensor developed by Hari Subramaniam, a resident of Tamil Nadu, is set to revolutionize healthcare.
The device tracks patients' vitals and relays the information back to the hospital network in real time.
The device eliminates the need for patients to be hooked up to multiple machines. Besides, it allows them greater mobility and a more comfortable experience.
The idea for the biosensor came about after Hari's own experience with cancer diagnosis and treatment.
Despite undergoing aggressive treatment, Hari realized that technology had not yet caught up with healthcare.
This realization led him to develop the LifeSigns iMS biosensor. The device is a palm-sized wearable device that is stuck above the heart.
It can monitor ECG, heart rate, respiratory rate, temperature, posture, blood pressure, and oxygen saturation.
The data is transmitted wirelessly to the hospital network, where it can be accessed by doctors on any device.
The biosensor has undergone extensive testing in hospitals across India, with suggestions from the medical community leading to improvements in efficiency and size.
LifeSigns iMS biosensor is designed for usage in various settings, including hospital monitoring, post-discharge care, cardiac monitoring, and pharmaceutical solutions.
LifeSigns has a wireless network within hospitals to support the system, and the company has a presence in 76 hospitals across India.
It produces biosensor patches, while the integration of sensors and technology is done by LifeSigns.
During the development process, Hari focused on making the device accessible to people from all backgrounds.
Patients no longer need to worry about removing the device while showering, as it continues to transmit data in real time.
With this biosensor, healthcare is taking a step forward into the future, where technology can ease the burden on patients and doctors alike.
The wireless biosensor is a remarkable innovation that has the potential to change the way of monitoring patients' health, especially in hospitals and outpatient care. It provides doctors with a comprehensive and accurate picture of a patient's health.
Image Credit: Lifesigns Website Screenshot
Image Reference: https://lifesigns.us/
What's new at WeRIndia.com