Somey's Kitchen – Spreading Indian cuisine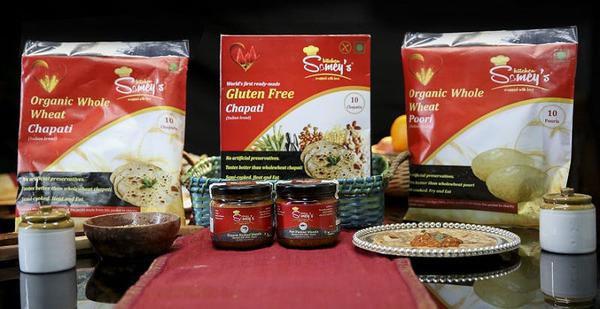 Joel and Sandy Samuel Jerome, a couple from Bengaluru are spreading Indian cuisine internationally.
Their aim: make the world fall in love with Indian cuisine. Hailing from Bengaluru originally, they have been living in the UK after their marriage in 2009.
When living there, they noticed that there was in fact quite a demand for Indian food amongst their own friends.
Joel and Sandy were looking to start their own global enterprise at the time. They decided that they wanted to turn their home-made condiments into a business model.
They named their business Somey's kitchen after the name of Sandy's mother who was the source of the recipes.
While they were enthusiastic to start their business, no banks or investors were interested to invest in a start up without any track record.
For the sake of funds, they sold their house in London. It was their first home but they decided to go all in into their business.
They started production from rental kitchens and their own home in the beginning. They only sold 100 bottles initially. It has slowly grown over 500 per month.
They then moved to setting up a factory. Due to limited funds, they decided to setup the factory in India.
After that, they launched pickled masala with Indian breads in 2018 in both India and UK.
They have established a full-fledged sales and distribution team covering West and South of India.
The start-up sells products of two categories. They are pickled masalas and Indian breads.
Pickled masalas include fish, prawn, and chicken. The Indian bread they sell include wheat, organic, and gluten free chapatti and poori.
In the future, Somey's kitchen aims to sell through Amazon India and Amazon UK.
Another great thing about the company is that they pledge to donate 50 percent of the profits to charity.
Image Reference: Yourstory
What's new at WeRIndia.com