Robot Restaurants to improve customer experience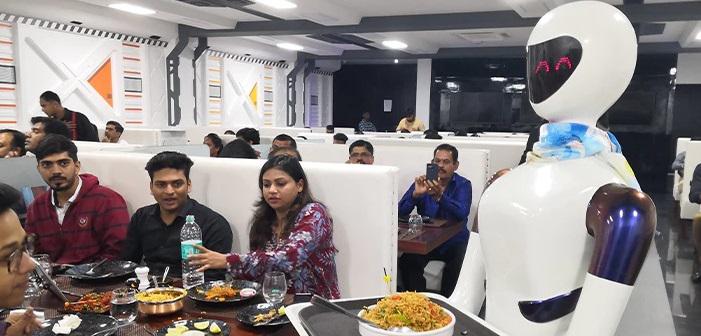 Now, it is the era of robots. They are replacing humans in several posts. In restaurants, they are serving customers as waiters or servers.
Robot restaurants in some parts of the country are improving customer experience. These restaurants are established by different persons in various parts of India including Chennai, Bengaluru and Coimbatore.
The Robot Restaurant which was recently opened at Indiranagar, Bengaluru by Venkatesh Rajendran made headlines in the news as it is the first robot-based restaurant in the city.
Five robots have been deployed at this restaurant to serve customers. These Android-based robots can be operated for 24 hours if they charge for four to five hours.
If any customer stands in the way while they are serving, these robots can politely ask to make a room for them so that they can serve the food.
Children can choose the name of the robot from which they want to be served using chits.
The restaurant wants to use the services of another robot as the receptionist. It is called as Queen Robot which will guide the customers to their tables and washrooms.
The robots would register the details of the customers with their retina verification and would greet them by their name when they visit next time.
Each table has a tablet through which orders can be placed. There are mini-trains as well to serve appetizers when robots are busy with many orders.
The restaurant owner wants to set up another five restaurants in Bengaluru in the coming 12 months after deciding the locations.
However, this is not the first robot restaurant in the country. There is a restaurant in Chennai. However, the owner is the same, i.e. Venkatesh. He opened his first Robot Restaurant in Chennai in 2017.
Currently, he has 18 robots and owns a chain of five restaurants.
Image Reference: https://yourstory.com/2019/08/robots-restaurant-waiters-food-technology-ai-india
What's new at WeRIndia.com