Pickles & More – Homemade Pickles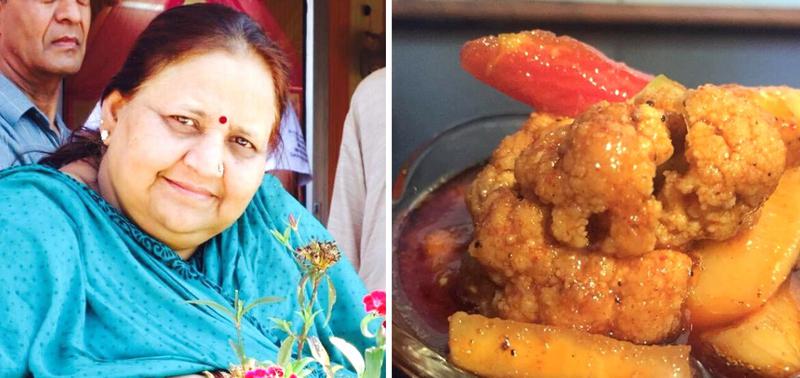 62-year-old Suman Sood, a homemaker had never thought that she could be a successful entrepreneur or that her brand could reach overseas.
But, it became true in her life. Her homemade pickles reached a restaurant in Berlin, Germany.
Suman was born in August. Her paternal grandmother believed that those born in the month of August would have magic in their hands to make pickles.
Hence, her grandmother used to choose Suman and get her help in mixing masalas and making pickles.
This created an interest in Suman to make pickles. She never planned to sell pickles but she was enjoying making them for her friends and family.
Gradually, people of her surroundings started approaching her for their special tastes and preferences. Some wanted the pickles to be spicy while others wanted them with different oils like olive oil. Since then, Suman started customizing pickles.
Later, her daughters convinced her to start her own brand of pickles – Pickles & More.
She makes 1,000 kg of pickle each season. She makes over 60 varieties of pickles and experiments with new varieties.
A half kg bottle of pickle is priced about ₹250. She generates a revenue of around ₹50,000 each month. Some of her bestselling pickle varieties include onion, carrot, cauliflower and turnip.
This Delhi based home business brand, Pickles & More started on Facebook and spread by word-of-mouth.
Through Google search, a German restaurateur met her in Delhi. He asked for some samples and assured her he would come back to buy pickles when he opens an Indian restaurant there.
A couple of years passed and Suman assumed that the man had forgotten her pickles.
But, to her surprise, the man came back to her last month and said that his restaurant was running good. He wanted to buy the pickles as promised in the past.
Suman felt very happy as her homemade pickles reached overseas.
Image Reference: Thebetterindia
What's new at WeRIndia.com