Parents launched startup for their left-handed son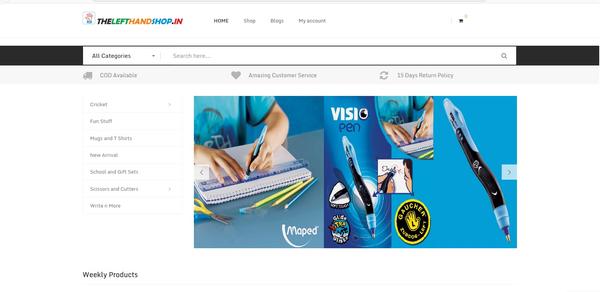 Generally, manufacturers design products that are suitable for right-handed people. Majority of people are right-handed across the globe. Hence, they ignore the left-handed people.
However, it is difficult for left-handers to use products that are meant for right-handed people.
Considering the difficulty, this couple launched a startup exclusively for left-handers.
Sandeep and Pavitter found the difficulty of their child, Gurinder Singh who is a left-hander.
He felt difficult to complete homework and writing tasks in the classroom. The couple did not understand the problem of their child initially. But when they asked what exactly his problem was, then Gurinder said that he could not write fast. The couple started analyzing and identified his problem.
They also observed that not only writing but other tasks were also difficult to finish for left-handers with tools designed for right-handers.
The couple then researched products designed for left-handers and found that there were only a few in the market. Besides, most of them are expensive. When asked the reason for the high cost of these products, the shop owners said that the market for left-handers was small and that's why these products are expensive.
In addition to that, there were no entrepreneurs in this sector for this reason.
But, Sandeep, the father of Gurinder says that the left-hand market is not as small as many think. It is estimated that around eight per cent of the country's population is left-handed. That means around 10 crore people are left-handed.
In this context, the couple wanted to design products for left-handers like their son. They launched a startup to sell products for left-handers at a reasonable price. They worked hard to figure out how to reduce the cost of the products.
The couple launched a startup, The Left Hand Shop in 2016. The store caters to the needs of left-handed people. It sells many products like pens, pencils, scissors, sharpeners etc.
So far, the startup served 50,000 people. It expects to serve more people in the future.
Image Credit: Thelefthandshop Website Screenshot
Image Reference: https://thelefthandshop.in/
What's new at WeRIndia.com