Emflux – An Electric superbike start-up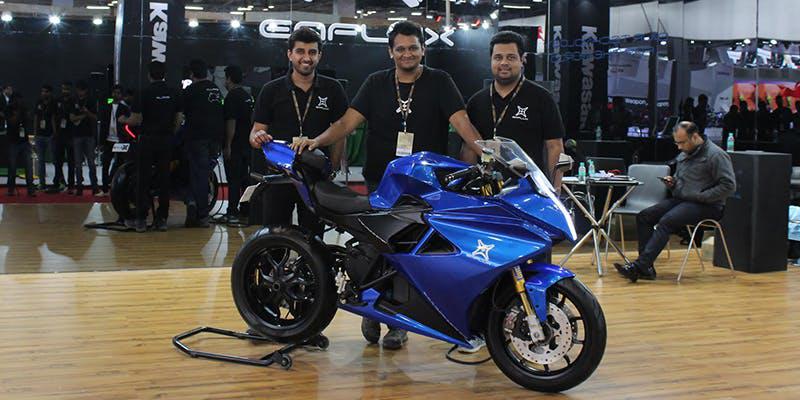 Varun Mittal is an alumnus from IIT Delhi who has a passion for electronics, robotics, and motorcycles.
He was a part of two startups, Jumia and Jugnoo, after winning Robocon India 2007.
However, when a serious motorcycle accident broke his femur bone in half, he decided to pursue a career in building performance motorcycles.
He got an investment from his friend, Meher Roy, and teamed up with Ankit Khatry and Vinay Raj Somashekar to found his startup and begin designing their motorbike.
In 2016, they founded Emflux, a startup that is designing and building the first electric superbikes in India.
Emflux's new electric motorcycle has an instant torque, and it can accelerate to 100 kilometers per hour in about 3.5 seconds.
Its top speed is 170 kilometers per hour, and its commuting range is 200 kilometers.
It only takes about 36 minutes to charge up the motorbike to 80% at a DC fast charge station.
The Emflux team developed most of the components of the motorcycle in-house, since the components available to buy in the market were not as powerful or compatible as the ones that they would need.
The finished design of their first bike, the Emflux ONE, pairs the aggressive proportions of a superbike with the calm nature of an electric vehicle.
Currently, Emflux has a team of 25 people, consisting of young designers, engineers, and people from other fields.
They have already received several investments from many various places, which will help fund their future designs.
Emflux is making plans for their Model 2, which will be a naked sports motorcycle with similar specifications as their Model 1. It will have two variants which will each have different ranges.
Emflux is contributing to the rise of electric vehicles, which have better vehicle performance, are better for the environment, and are much quieter to drive.
Image Reference: Yourstory
What's new at WeRIndia.com