Altigreen launches fastest charging electric three-wheeler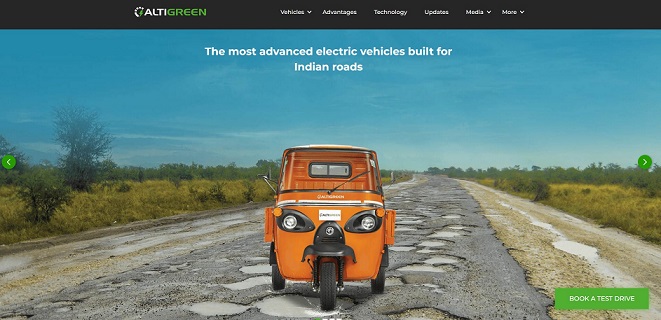 To meet the needs of customers, many startups are launching different variants of electric vehicles onto the market. This Bengaluru-based startup launched the fastest-charging electric three-wheeler.
Altigreen, a commercial electric vehicle maker, launched a three-wheeler cargo vehicle that can charge in just 15 minutes.
Many existing charging guns take at least four hours to charge a vehicle fully. But, the startup claims its vehicle is the world's fastest-charging electric three-wheeler.
The startup launched its new variant of a three-wheeler cargo electric vehicle, in collaboration with another startup, Exponent Energy. It is neEV Tez. The electric vehicle has other two variants also – the High Deck and the Low Deck.
Both Altigreen and Exponent Energy announced their partnership in August 2022. After that, their first product, the neEV Tez has been launched onto the market.
The price of neEV Tez starts from ₹3,55,000. It offers a warranty of 5 years or 1 lakh km. In addition, the vehicle has a battery warranty of 5 years or 1.56 lakh km.
The vehicle can be charged either at home or at the charging station (e-pump) of the Altigreen. However, charging at home consumes more time as it has a slow charger.
Altigreen and Exponent Energy have 20 charging stations in Bengaluru. They are planning to have more e-pumps later. They want to cover almost all important locations of the city. They aim to have at least 30 charging stations in the beginning.
Also, both these startups wished to expand their charging stations to 100 in Bengaluru in the next six months. In other words, they wanted to equal the number of their charging stations to the CNG stations in the city.
The neEV Tez three-wheeler has been built indigenously. The startup designed the three-wheeler according to the country's road conditions and temperatures. It is useful for both intercity and intracity transportation.
Image Credit: Altigreen Website Screenshot
Image Reference: https://altigreen.com
What's new at WeRIndia.com