DocsApp – An Online Doctor Consultation Platform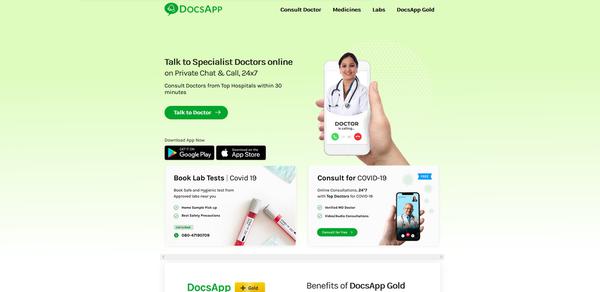 There is a huge demand for online healthcare service providers in the country. Many health-tech companies are emerging in this context.
DocsApp is one such health-tech startup. Satish Kannan and Enbasekar D are the founders. While studying at IIT-Madras, both became friends. They are interested in healthcare.
Later, Satish started working with Philips Healthcare. Enbasekar started working on research and development of healthcare medical devices and technologies.
Then, they realized that India has many healthcare issues. Getting access to a specialist doctor is one of the biggest challenges in the country.
They also understood that mobile technologies can help provide better healthcare solutions and more people can access these services.
Hence, they launched DocsApp. This Bengaluru based startup began its services as an online doctor consultation platform.
The startup wants to build hospitals across the country initially, but they realized that it was difficult. There is a shortage of specialist doctors in India. Besides, several of them are practising in metro cities. Hence, several rural people are not getting quality healthcare.
DocsApp aims to provide healthcare access to all Indians. They believe technology can help solve the issue. They recognized that around 70 per cent of health issues can be treated online. That's why they launched DocsApp with initial funding of ₹5 lakhs.
In addition to doctor consultations, the startup provides lab tests, delivery of medicines, and preventive health checkups.
They offer different lab packages. Complete health checkup for different age groups, diabetes care package, hair fall package, and thyroid package are some of them.
Last month, DocsApp merged with MediBuddy, a healthcare provider. Now, they offer services round the clock. Patients can connect to specialist doctors through video or call using this platform.
The startup has partnered with 7,000 hospitals, 3,000 diagnostic centres, and 2,500 pharmacies. It has a network of more than 90,000 doctors.
Around 25,000 Indians are using their services daily.
Image Credit: Docsapp Website Screenshots
Image Reference: https://www.docsapp.in/
What's new at WeRIndia.com