Water ATMs give RO Water at Rs.5 per Litre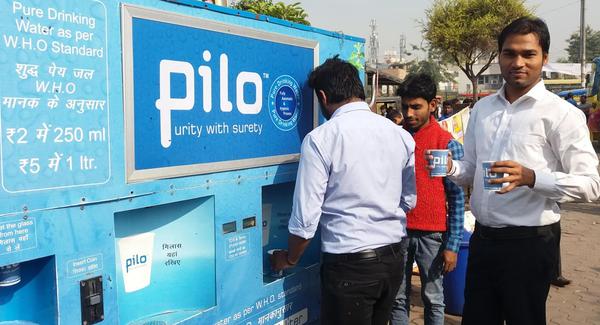 Water scarcity is a big problem even in the present day. In areas with less water, it is sold for high prices. In order to tackle this problem, a new invention has been started. Vikas Malik got the idea to make a Water ATM for this. He joined hands with his friends Jatin Ahlawat, Parveen Singh, Ajay Yadav and Mohamad Yunus Ansari to achieve this.
They are all engineers who want to use their knowledge to help the word. They had experiences with automation and water technology as well. So they started building drinking water ATMs. These are like water vending machines. They dispense water which is purified using Reverse Osmosis (RO) technology. The water is also given at a very affordable price. With that aim, they started Abhyuday Automation in 2013.
They have worked and invested for more than two years and raised funds to build their idea. In 2015, the team was ready with their vending machines called 'Pi-lo'.
These vending machines give users water 24/7. The water is cool and hygienic due to the RO cleaning technology. Each liter is sold for Rs.5. This is four times cheaper than normal bottled water.
RO water is usually sold at higher price. This is because of the wastage that happens during RO. Vivek says that RO filters usually result in 40-50% of wastage. The team made a Zero Liquid Discharge technology which helps cuts it down to 5% and the rest will be fit for consumption.
As a result of this technology, they were able to provide water for such cheap price. They also did not spend any money on advertising in order to save those costs. Advertising usually causes the price of bottled water to go high. This team partnered with public institutions and put their machines in public places with more visibility.
Pi-lo also comes with paper cups instead of plastic ones. There are Pi-lo vending machines at over 80 locations including 28 metro stations in Delhi-NCR. They are planning to expand to Hyderabad and Chennai metro stations as well as schools, communities, supermarkets, and train and bus stations etc.
Image Reference: TheBetterIndia
Recent Posts

AABY intends to protect people employed in the

Mutual funds make an effort to meet the requirements

40-year-old S Sankari from Villupuram, Tamil Nadu, makes
What's new at WeRIndia.com