The Carrot Cleaning Machine Man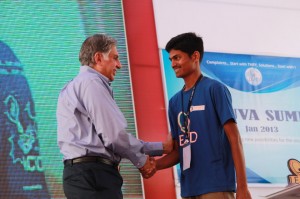 He is the father of the Carrot Cleaning Machine and Eco Water Coil.New innovations that have brought him the satisfaction of having implemented good ideas.
Santosh Kaveri began to work on projects to help farmers when he joined BBA in Belgaum City. Recalling his own struggles, he thought of a problem his farmer's family had faced during carrot cleaning, which was a very tedious process, requiring 12 people to clean one quintal.  Santosh pondered and searched determinedly for a solution to this problem. He hit upon a brainwave when he watched a washing machine in progress, and realized that he could apply the same concept to devise a machine that could quickly, and efficiently, clean carrots!
As he was a business student without earlier experience with engineering, he failed in 11 attempts, but finally did it. His Carrot Cleaning Machine today requires only two people to scour one quintal of carrots in just a quarter of an hour, without electricity and little water. It is being harnessed in 10 villages.
Santosh was awarded by Ratan Tata during the Deshpande Foundation's 2013 Yuva Summit. Another machine he made included Eco Water Coil, a stovetop device that boils water for cooking and bathing. It helps to conserve water as well as gas.
This poor boy from Shedbal village once used to walk 10 kilometers to school. To support his family, he had to pitch in to help out with work at home. To continue his education, he pursued farm work before and after school. In order to take his career forward, he finally got admission into BBA. Yet, after he moved to the city, he would sleep in college classrooms as he found the hostel stay too expensive. Finally, the government agreed to cover his expenses. His life then became normal.
In just his first year, he joined the Deshpande Foundation's LEaders Accelerating Development (LEAD) program. It offers funds as well as help for students who can implement their community enhancement projects. It helps them to practise their entrepreneurial skills, leadership, and innovations. The Carrot Cleaning Machine was his first attempt at making a new invention.
He even purchases products such as banana snacks and kadi dress material from rural micro-entrepreneurs, and sells them to large outlets like Big Bazaar.
The story of Santhosh is inspiring. Though young, he has tried and succeeded in achieving big dreams.
What's new at WeRIndia.com