Underground garbage bin eliminates bad odour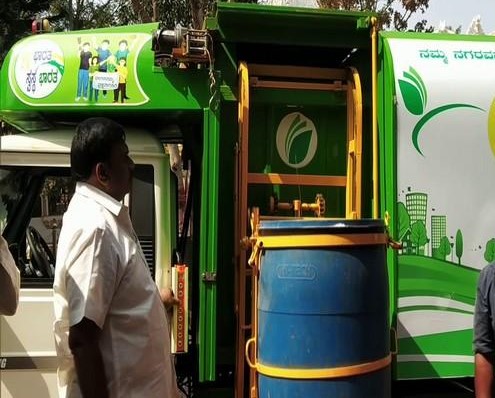 Waste disposal remains a big menace in the country. Due to improper disposal of waste and garbage, the garbage bins become breeding grounds for many disease-causing microbes.
Garbage bins, especially when left opened, spread bad odour. It also can attract small garbage flies and mosquitoes, which lead to several health problems.
From sorting to dumping, waste disposal becomes a huge mess. While careless collection and transporting lead to spill out of garbage, the openly-left out garbage bins generate disease-causing germs.
To get rid of bad odour and avoid such a situation, this Karnataka man developed an innovative disposal system.
Vishwanath Patil from Hubi found an innovative way to keep garbage bins underground to eliminate bad odour.
Patil runs Swacha, Swasth trust. He made an automatically operated vehicle with a dustbin. It is also leakproof to make sure no spilt out of garbage. He designed the machine in such a way that the garbage was not visible from the outside.
Patil's automate machine disposal system helps solve all these problems involved with the garbage disposal. It ensures no garbage spill out during the transfer of litter. In addition to that, it occupies very little space and at the same time can store more litter than the traditional garbage bins.
Since the litter can be collected from the bin directly on to the van, it reduces human interaction and involvement.
When the design of the litter vehicle was shared on social media, it went viral. Many netizens appreciated the attempt of Patil to solve one of the major issues in the country.
Some others said that such vehicles are used in many countries like Japan at present. Several other countries are also using similar concepts. However, it is new here. Hence, his new-age machine is considered to be one of the unique innovations.
Image Credit: ANI
Image Reference: https://www.aninews.in/news/national/general-news/karnataka-man-develops-underground-dustbin20210201090751/
Recent Posts

Shami or Jand tree is one of the

Telegram supports numerous platforms like Android, iOS, Windows

The government decided to launch a track and
What's new at WeRIndia.com