Nanoclean – Giving respiratory devices for less than ₹10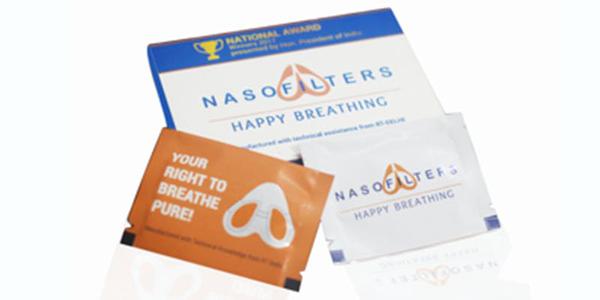 Recently, the quality of air has been worsening around Delhi and the National Capital Region (NCR).
Due to the heavy pollution caused by buildings and factories, it is becoming harder and harder for people to breathe fresh air.
Although there are the options of using face masks or nose bud filters, these are usually very uncomfortable, and people prefer not to use them at all.
Prateek Sharma saw the need for a better kind of filter when his mother's asthma began to worsen with the increasing levels of air pollution, and she would refuse to use a nose bud filter or a face mask.
After Prateek joined IIT-Delhi and learned about technology, he got together with two of his friends from the school, Tushar Vyas and Jatin Kewlani, and together, the three of them founded Nanoclean.
Nanoclean's product is a Nasofilter, a small strip placed outside the nostrils that can eliminate inhaled pollutants.
Made by accumulating millions of pores on a small piece of fabric, Nasofilters can filter out 95% of PM 2.5 pollutants.
The Nasofilters can also filter out PM 10 pollutants, small bacteria, pollen allergens, and dust mites.
These filters do not give any breathing discomfort to the user, and they feel perfectly comfortable on the face as well.
Nanoclean now owns lifelong, exclusive rights to the Nasofilter technology, and they are also the only ones who can commercialize it.
Currently, the Nanoclean team is developing other ways to apply their technology.
They are working on the production of various items, such as window curtains and door nets, that filter out the air coming into entire rooms.
The Nasofilter technology can also be used for water filtration, which can be a massive step forward in providing people with affordable clean drinking water.
Although it may take many years to reduce the long-term effects of air pollution, in the meantime, startups like Nanoclean provide excellent temporary solutions.
Image Reference: Yourstory
Recent Posts

If you are someone who travels much due

The Mahaparinirvana temple has a statue of Lord

The 5G testbed aims to reduce dependence on
What's new at WeRIndia.com