Low-cost Braille printer by 13-year-old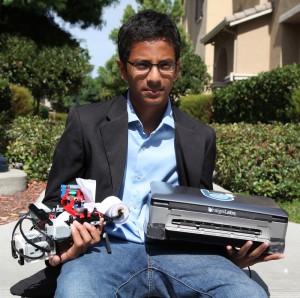 It happened at Houston. Recently, Shubham Banerjee, a 13-year-old Indian-origin boy, received a huge investment from Intel to develop a low-cost printer for the visually challenged. He is the youngest tech entrepreneur to receive funds from a venture capital firm.
This young CEO of the Braille printer-maker Braigo Labs, completed an early round funding with Intel Capital, Intel's venture capital arm last month to develop a prototype of the low-cost Braille printer.
Till last year, the California-based boy did not even know about Braille, but when he saw a fundraising flyer for the blind, he began to wonder how they would read. Trying to get an answer through Google made him discover that every printer cost USD 2,000, which seemed a high sum for him.  It shocked him and made him wonder how he could help them.
He began to build up a Braigo Lab's Printer out of Lego's Mindstorms EV3blocks, which got him a lot of recognition and appreciation, including 'The Tech Awards' 2014, as well as an invitation to the White House Maker Faire, which rewarded student entrepreneurs and innovators.
Shubham's printer can bring down the costs to USD 500. In his website, he explains that there are 285 million visually impaired people worldwide, among which 90 per cent live in developing countries.
Intel was impressed enough to visit him last September and express an interest in investing in his company. Last week, the investment was made official at the Intel Capital Global Summit, when Braigo Labs was referred to as one of the 16 tech startups that Intel is investing into this year.
The exact amount of the investment was not disclosed. It might be a few hundred thousand dollars, which would make Shubham the youngest tech entrepreneur to be funded by a venture capital firm.
With Intel's funding, Braigo Labs plans to build a new prototype that resembles a regular printer, and bring it to market by next year.
What's new at WeRIndia.com