Evochef introduces the world's first dosa printer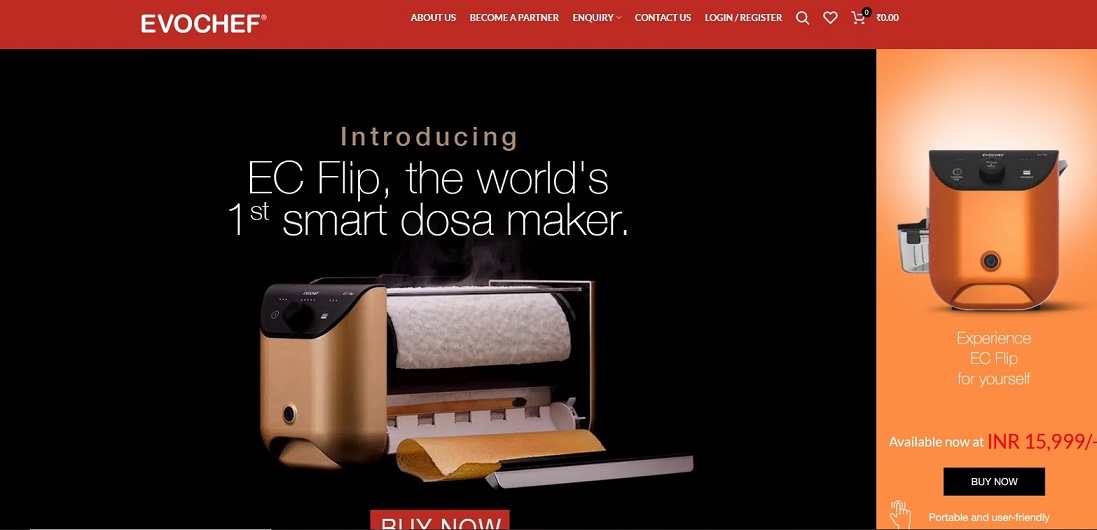 Dosa is one of the common breakfast recipes in India. It is the favourite of many people in South India.
Chennai-based Evochef launched an automatic smart dosa printer to ease the process of dosa making. This world's first dosa printer is priced at ₹15,999. The company named the device EC Flip.
Evochef claims that the dosa printer can make 10-12 thin dosas or 6-8 dosas. EC Flip automatic dosa printer has many wonderful features.
It has a 700 ml batter tank to make up to 10 dosas. One can adjust the thickness of the dosa and cooking time as per their choice.
After placing dosa batter in the device, one can choose their preferences like thickness, crispiness etc., and press the button to start the process.
Then the printer starts to work and prints A4-sized dosas. They will be pushed out like a normal printer gives out the printed paper. One can add butter, ghee or cheese to dosas as per their choice.
The company released a video describing the functioning of the dosa printer. The video has gone viral. While many netizens appreciated the efforts of the company, some did not like the device.
They expressed that the process of making dosa is not so difficult. Besides, one needs to make chutney or sambar on their own, which is more difficult than dosa making, then there is no use for an automatic dosa printer.
Some others expressed their concerns about the jamming of dosa batter in the printer. They doubted that clearing the dosa batter from the device would be a messy thing.
A few users said that dosa-making is simple when the batter is ready. Unlike roti making, it does not involve many steps. Hence, there is no point in using a dosa printer. Other netizens said that it is a waste of money and electricity.
At the same time, many netizens lauded the innovation of the company. Those who appreciated the device said that all family members could eat dosas together with this device.
Image Credit: Evochef Website Screenshot
Image Reference: https://evochef.in/
What's new at WeRIndia.com