Millet Amma flavors south Indian twist to millets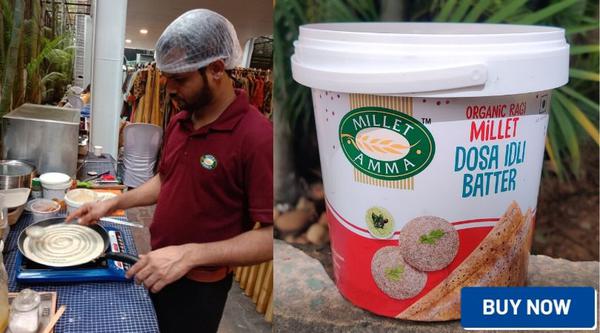 Millets are gaining popularity. Due to their health benefits, many health-conscious people are showing interest in using them.
At the same time, many people do not know how to cook them deliciously. Unlike rice that has a nicer taste, millets do not provide good taste to certain recipes.
But, if you add certain ingredients, they can improve the taste of millets.
Millet Amma is a startup that offers nutritious and delicious ready-to-make mixes with millets.
Millet Amma was founded by Ruchika Bhuwalka.
It provides millet-based idli and dosa batters. Before starting Millet Amma, Ruchika used to offer batter for free to her friends and relatives.
They were enjoying the flavor and used to say they would not accept the batter for free.
They also used to call her 'Millet Amma'. Then, Ruchika started Millet Amma to cater to the needs of friends and relatives.
Now she has around 4,000 customers.
Raised in a family of foodies in Kolkata, Ruchika's family used to eat everything without counting calories.
But, later she shifted to Bangalore in 2003 where she realized the importance of a healthy diet.
At that time, her husband was suffering from backache. She then learned that a healthy diet in addition to lifestyle is important to prevent inflammatory diseases.
The couple started changing their unhealthy eating habits and avoided food with high sugar.
Though fruits and vegetables are healthy, they do not provide adequate nutrients to the body.
She started experimenting with organic and healthy grains like millets.
Rather than using rice in dosa batter, she was using millets and found that the results were amazing.
She used to share her recipe with friends and relatives. Seeing their overwhelming response, she started Millet Amma.
Ruchika procures organic millets from farmers in Karnataka. They assure the products are free of chemicals and preservatives.
Millet Amma also sells pickles, chutneys, powders, and dips.
Image Reference: Thebetterindia
What's new at WeRIndia.com