Electric Waste collector vehicles soon to come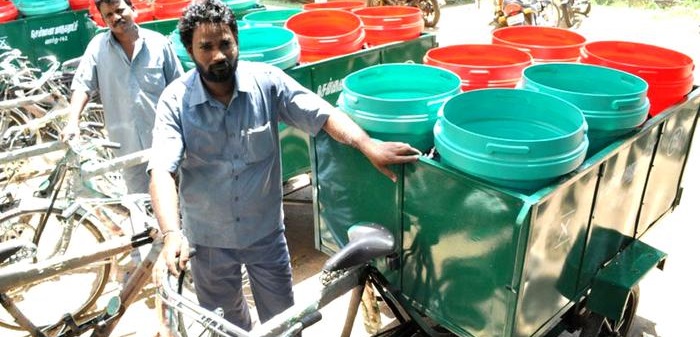 Garbage management in India is still quite cumbersome. Many states still use door to door methods of waste collection which is a slow and inefficient way to collect the garbage.
Furthermore, even the workers who go door to door to collect the waste feel bad about their treatment and rightfully worry about how they can get various infections when managing the garbage.
However, Tamil Nadu is soon going to launch an innovative method to collect garbage which is fast and clean.
The state will be launching battery powered three wheelers all over. They will collect the garbage by going door to door.
TN is set to launch around 1700 garbage collection vehicles. They have created a budget of ₹654 crores for this project under the Swachh Bharat Mission.
The vehicles are made in a systematic fashion as well. They come with various types of bins to collect various kinds of trash.
They are powered by rechargeable batteries making them eco-friendly.
Thanks to these vehicles, the time taken to collect garbage will be reduced. They also segregate waste easily.
The vehicles are designed in a way to reduce risk of exposure to infection to the workers as well.
Chennai itself would be given 100 of these vehicles. They cost around ₹2 lack each. Thanks to these new vehicles, the state can replace the old tricycle carts that are being used now.
As the worker would be in the driver's seat of the cart, they will be well separated from the waste itself.
This will help them maintain their own hygiene and can help reduce the bad impression that people usually hold towards sanitation workers.
The vehicles can reduce the time taken for workers to collect garbage and according to predictions workers will be able to cover around 1,200 households daily.
It also lets them avoid having to touch the waste they collect.
Image Reference: Thebetterindia
What's new at WeRIndia.com