Edible Cutlery – Eco-friendly alternative to plastic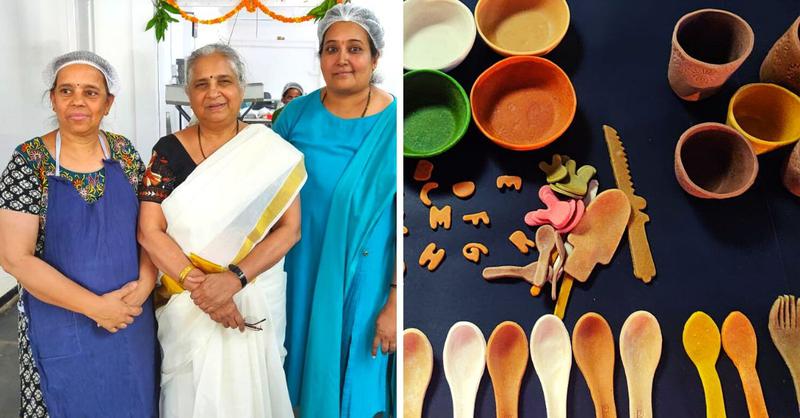 Many innovators are exploring ways to design alternatives to plastic. Some are using wooden and steel cutlery instead of plastic.
Now, it is the time of edible cutlery. The Bengaluru-based startup, Gajamukha Foods made eco-friendly edible cutlery, EdiblePRO.
Consumers can eat the cutlery like spoons, cup, bowls etc. or dispose of in a compost pit.
EdiblePRO is biodegradable within a week. The edible cutlery comes in different designs, colours and textures.
Gajamukha Foods was founded by Shaila Gurudutt and Lakshmi Bheemachar. They worked in IBM for several years. They quit their jobs due to their passion for the environment and started an eco-friendly venture.
The duo spends more than a year on research and development before launching their product in the market.
The Defence Research and Development Organization (DRDO) supported them and guided them.
Shaila experimented with different flours and other ingredients to design the product. She also used various concoctions for it.
She succeeded in her attempts. The cutlery samples were approved by an FSSAI-certified laboratory in Bengaluru.
The duo registered their startup only after the approval.
The notable part is that they used no preservatives or no artificial colours in their products. They used natural colours extracted from vegetables and fruits like beetroot, carrots etc.
In addition to that, their products are made from grains, millets, pulses etc. So, they are rich in protein and fibre. Hence, their products are completely natural.
They directly procure the material from local farmers. Besides, they employed rural women to work. Thus, they are empowering farmers and women.
They identified a formula to improve the shelf life of their products for up to six months. They have different products for meals and snacks.
Their tableware includes spoons, plates, bowls, knives etc. can be eaten directly without cooking.
They customize products. Chocolate spoons are the most popular product demanded by many people from children to senior citizens. Price varies between ₹2-₹155.
Image Reference: Thebetterindia
What's new at WeRIndia.com