Econiture makes furniture from recycled plastic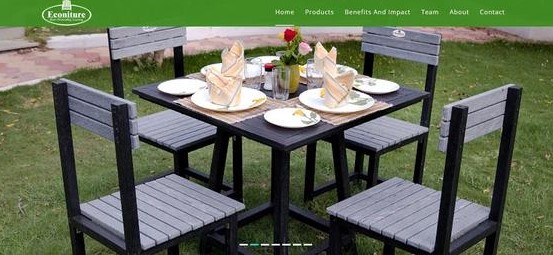 As the demand for eco-friendly products is increasing in the country, various new products emerge into the market.
To provide sustainable products to environment-conscious consumers, Madhur N Rathi launched his venture, Recycle Bell Private Limited.
In 2017, Mathur and his three friends, Roshan Pidiyar, Bhushan Boob and Ashish Modak started the venture with an investment of ₹5 lakhs aiming to manage waste effectively.
The company collected dry waste during the initial days from ragpickers. Then the waste is segregated into various recyclable products.
The startup used to sell these materials to recyclers to make various useful products like toys, bags, rugs, mats etc.
Later, Mathur and his friends decided to make their products from recycled plastic.
They launched Econiture in 2019 to make furniture from recycled plastic.
Mathur says furniture made from recycled plastic can be recycled further after certain years, which is not known to many people. Hence, he started selling furniture made from recycled plastic under the brand name Econiture. The products of Econiture include chairs, racks, benches, tables, stools etc. The furniture can withstand all climatic conditions.
Besides, this furniture can be recycled further. So far, Econiture has recycled more than 1,400 metric tonnes of dry waste.
Econiture sells its products on e-commerce portals like Amazon. Price of the products ranges from ₹300 to ₹29,000. Current revenue of the company is around ₹8 lakhs per month out of which ₹2 lakhs are generated from the sale of Econiture products. The remaining amount is generated through the sale of recyclable plastic.
The company has 50 employees at present. Among them, 30 employees are women. So far, the startup sold furniture equivalent to 5,000 kg of plastic waste. The founders are planning to launch a website for their customers to order the products directly in future.
Image Credit: Econiture Website Screenshot
Image Reference: http://www.econiture.com/
What's new at WeRIndia.com