Worship Goddess Lakshmi in Marghashirsha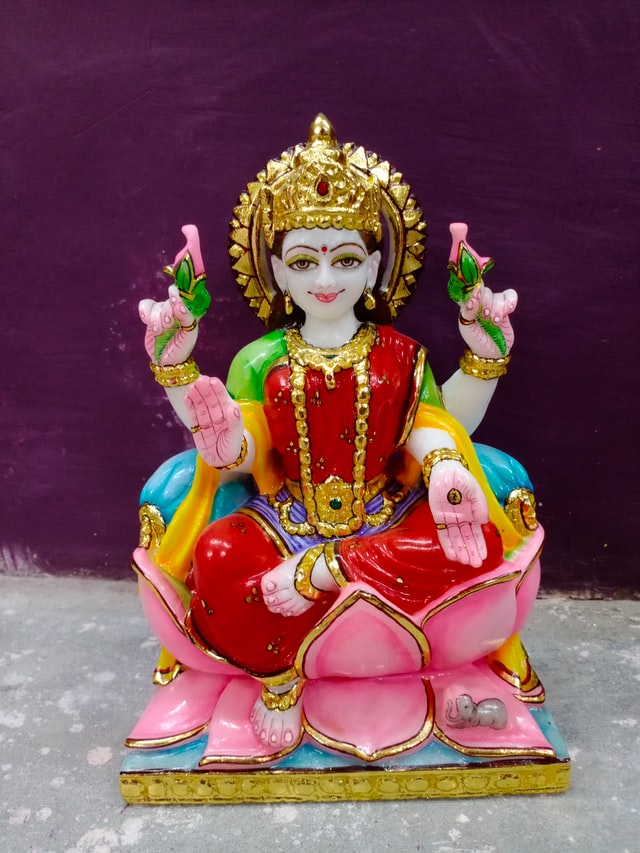 Margashirsha is ninth month of Hindu calendar. This month is considered auspicious to Lord Vishnu and Goddess Lakshmi.
Except in some states that follow Hindi Hindu calendar, it starts from today in most of the states.
Devotees observe fasting and worship Goddess Lakshmi, the wealth of Goddess on every Thursday in this month.
This puja can be done at home or temple.
Devotees believe that Goddess Lakshmi would bestow them with fortune, comfort and peace.
Both men and women perform puja and observe fast. Married couple can perform it together.
The Goddess can be worshipped in any of the eight forms.
Fasting begins from the morning on Thursday. Prayers are offered to both Lord Ganesha and Goddess Lakshmi.
The Kalash or pot is filled with water and kept in puja. It is adorned with betel leaves and mango leaves and coconut is placed on top of it.
The Kalash is placed in a plate filled with few coins and akshtas (the sanctified rice).
A red color cloth is placed around the Kalash.
Four lines that represent four Vedas and Swastika is drawn with Kumkum or Rangoli.
Five types of fruits are placed in Puja.
The Puja table is decorated with flowers. The Kalash is kept in front of it. Diyas and incense sticks are lit.
Various mantras are chanted and a book 'Mahalakshmi Vart Katha' is read during the day.
Nine varieties of food items are made including sweets in the evening.
The puja should be performed in a similar manner on all Thursdays during the month.
On the last Thursday, five married women are invited to the home. These are considered as the avatar of Goddess Lakshmi. These women are offered Haldi and Kumkum. Then they will be given fruits, flowers and Dakshina.
Image Credit:– Photo by Vivek Sharma on Unsplash (Free for commercial use)
Image Reference: https://unsplash.com/photos/IzOKY8YqiAA
What's new at WeRIndia.com