Avatars of Goddess Lakshmi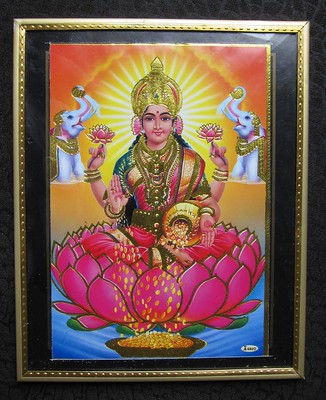 Goddess Lakshmi, the Goddess of Wealth is the favorite of many people. After all, who does not want riches? Devotees worship her to get riches and fortune.
Today is Diwali. The festival is mainly associated with Goddess Lakshmi. People all over the country decorate their homes, light diyas and perform Puja to Goddess Lakshmi.
In this context, it is good to know about the avatars or incarnations of Goddess Lakshmi. There are several legends associated with her incarnations.
Here are the avatars of Goddess Lakshmi:
Vedavati was one of the incarnations of the Goddess. Rathadhwaja was a king who used to worship Goddess Lakshmi. But, after a certain period, he stopped worshipping her due to which he lost all his treasures and kingdom. His sons, Kushadhwaja and Dharmadhwaj realized the importance and observed rigorous penance until the Goddess granted them a boon. As per the boon, the Goddess was born to Kushadhwaja's wife Malavati as a daughter. But, she could not marry Lord Vishnu in this avatar and was told that she would be married to him in her next avatar.
The next avatar of Goddess Lakshmi was Sita, the consort of Sri Rama. According to Ramayana, Janaka found her while ploughing the land for a yagna and adopted her. Later, she married Lord Sri Rama.
There was another legend about the avatar of Goddess Lakshmi. Tulasi is the incarnation of the Goddess. Goddess was born to Dharmadhwaja's wife Madhavi as Tulasi. She married Lord Vishnu. As per Vedic texts, Tulasi's body became River Gandaki and Vishnu became a Shaligram or Salagram. The hair of Tulasi grew into a plant which is considered as a favorite to Lord Vishnu.
The next avatar was Rukmani.  She was the daughter of Bhishmaka, the king of Vdharbha. Bhishmaka was an avid follower of Lord Vishnu and had a great respect for Sri Krishna, the incarnation of Lord Vishnu. He wanted his daughter to get married to Sri Krishna. But, his elder son, Rukmi objected this and fixed her marriage with Shishupala, one of his wicked aides. Then a great war was fought for Rukmani. Sri Krishna defeated all the wicked people and married Rukmani.
Padmavati was also the avatar of Goddess Lakshmi. It is believed that Vedavati was born as Padmavati in her next birth to marry Lord Vishnu. She was born as the daughter of Akasa Raja and married Lord Srinivasa or Venkateswara, who is believed to be the incarnation of Lord Vishnu.
Image Credit:- "Lakshmi" by Indi Samarajiva is licensed under CC BY 2.0.
Image Reference: https://www.flickr.com/photos/indi/4205600222
What's new at WeRIndia.com