Slogans that changed the fate of Indian politics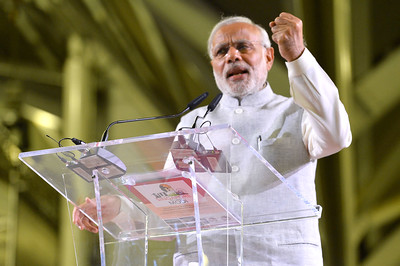 Slogans are quite common in politics. Now that India is in the mood of general elections, each political party is trying to attract voters with their slogans.
In olden days, slogans used to be taken from the speeches of the leaders of the political parties. At that time, public gatherings played a vital role.
Now, the public wants everything at their home. So, gathering huge public for the speeches of leaders is somewhat difficult.
Hence, almost all the political parties are creating appealing slogans with the help of creative writers and using them on electronic or print media.
In this context, here are some historical slogans that changed the fate of Indian political parties:
In 1951, Pandit Jawaharlal Nehru used 'Naya Bharat banayenge (We will build a new India)' and 'Sampradayikta ko jadh se ukhadh phekna hai (We have to uproot communalism)'. These became the slogans in the election campaigns of the Congress Party later to win the elections.
'Garibi Hatao' is a very popular slogan which helped Indira Gandhi become Prime Minister. At that time, the Opposition parties said 'Indira hatao'. Quoting this slogan, Indira Gandhi said, 'They say Indira hatao, Indira says, Garibi Hatao' in 1971, and won the elections.
In the early 90s, when there was no stable government and parties were changed frequently, the Congress came into power with the slogans of 'Vote stability, Vote Congress' and 'Don't vote for caste or community but for the Hand that brings stability'.
'Ab ki bar Atal Bihari' slogan helped win the elections in 1998 and 99 for former later Prime Minister Atal Bihari Vajpayee.
'Abki bar Modi Sarkar' was the slogan used by the BJP in 2014 elections which helped the party to come into power. 'Achche din' and 'Subko parkha, Humko parkho' (You tried every one, now try us) were also used by the party.
Now for Lok Sabha elections 2019, the BJP is using the slogans of 'Modi hai to mumkin hai' (If Modi is there, everything is possible) and 'Phir ek baar, Modi Sarkar' (Modi government, another time).
While the Opposition parties are using the slogan 'Bhajapa Hatao…Desh Bachao'.
Image Credit:- "PM Narendra Modi in Singapore" by Narendra Modi  is licensed under CC BY 2.0.
Image Reference: https://www.flickr.com/photos/narendramodiofficial/23795890516
Recent Posts

Pay your loans, credit card bills, and other

PotHoleRaja developed GridMats technology and patented it.

To help farmers improve the shelf-life of their
What's new at WeRIndia.com