Significance of Yaganti temple where the rock 'grows'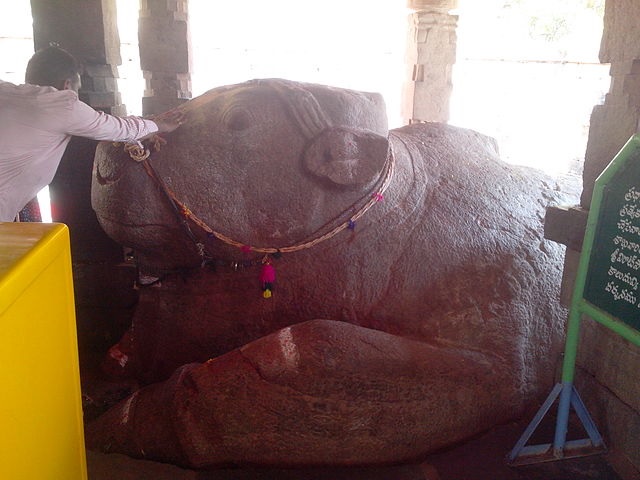 There are many mysterious and wonderful temples in India. The art and architecture of several ancient Indian temples were carved in such a way that the techniques behind the structures are unable to be understood.
Yaganti temple is one of the mysterious temples in India. The temple is located in Kurnool district of Andhra Pradesh. Nandyal railway station is the nearest railway station here, located 55 km away. Hyderabad airport is the nearest airport. It is situated at 290 km from Yaganti.
The main deity at this temple is Lord Shiva and Goddess Parvati. This temple is known as Uma Maheshwara Temple.
Here the idol of the god along with his consort (Ardhanareeswara) was carved out of a single stone. Another unique feature of Yaganti temple is that Lord Shiva is worshipped in the form of an idol. Usually, the temples of Lord Shiva has the deity in the form of Linga.
Crows do not fly in Yaganti. It is believed that Sage Agastya cursed the crows not to enter the premises as they disturbed him during his meditation.  Hence, it is believed that Shani can't enter this place as the crow is the vehicle of Shani.
Another unique feature of this temple is the growing Nandi idol. Initially the Nandi was much smaller in size. Earlier, devotees used to do Pradakshinas around the Nandi. But, they cannot do so due to its size. Besides, Nandi became so bigger that a pillar had to be removed.
Nandi idol was carved out of a unique rock that enlarges its size naturally over the time. The Archeological Survey of India found that the rock grows 10 mm per 8 years. Devotees believe that the Kaliyuga would end when Nandi would get life and shout.
There is a pond on the temple premises in which the water is crystal clear. Water flows in it throughout the year. One can see the bottom part of the pond clearly. Devotees take holy bath before visiting the deity.
Image Credit: Sanju189 / CC BY-SA 3.0, via Wikimedia Commons
Image Reference: https://commons.wikimedia.org/wiki/File:Yaganti_.jpg
Recent Posts

The government rolled out the ONDC initiative in

The function of the salivary gland is impaired

Shubham Saini runs a tea stall named Frustrated
What's new at WeRIndia.com