Significance of Akshaya Tritiya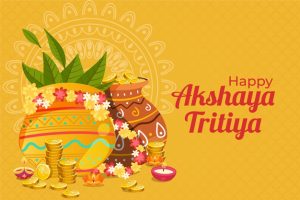 Tomorrow is Akshaya Tritiya. Many Indians have a tradition of buying gold on this day as it is considered one of the auspicious days.
Akshaya means never diminishing in Sanskrit. This day is believed to bring good luck and fortune. Gold is part of the lives of Indians. Moreover, metal has significant place in many religious rituals as well.
Hence, people buy gold on this day. The belief behind this is that if anything is bought on this day or if any new ventures are started on this day, they are said to become fruitful and flourishing.
Gold is one of the most precious metals. So, several Indians buy gold. Though, the origin of this tradition is not known, many follow it with good belief as their neighbours do.
There are many legends behind the significance of Akshaya Tritiya. According to Hindu scriptures and Puranas, the Krita Yuga or Satya Yuga began on this day. Satya Yuga is considered as the first and best period of humans with perfection everywhere in humans as well as other creatures in nature.
Another legend says that Lord Krishna gave Akshaya Patra (the bowl of abundance which never perishes) to Draupadi. With this bowl, Draupadi could feed all the people who visited them in their exile.
The great epic Mahabharata was started by Maharishi Veda Vyas along with Lord Ganesha. The sacred river of Hindus, the Ganga descended on this day.
Sudama visited his childhood friend Lord Krishna with rice flakes (poha) and was blessed with plenty of riches on this day.
All these legends emphasize the significance of Akshaya Tritiya as a blessed day.
In addition to buying gold, one has to visit temples, worship gods and goddesses, and offer food and clothes to people in need to get good results as per the Puranas.
Image Credit:- Gold vector created by freepik – www.freepik.com
Image Reference: https://www.freepik.com/free-vector/happy-akshaya-tritiya-decorative-pots-coins_7684960.htm
Recent Posts

The Odisha government stepped ahead to control the

Here is a list of some great events

Kochi Metro launched a special Independence Day offer
What's new at WeRIndia.com