Do Indian scientists get the support they deserve?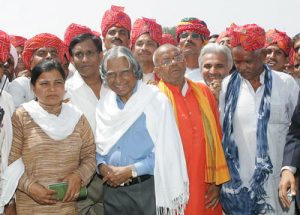 The 102nd Indian Science Congress 2015 was recent held and Prime Minister Narendra Modi himself attended this congress. This was an event which was supposed to improve the situation of science in India. Ramachangra Guha wrote a piece about this congress at Hindustan Times in which he stated that India will not be "becoming a scientific power any time soon".
Prime Minister Narendra Modi made a statement recently that the existence of Lord Ganesha proves that Indians have invented the art of plastic surgery long before. If the leaders of our nation makes claims like these to impart a sense of patriotism among people, how will the real scientists ever get the credit they deserve?
Is India so insecure about its own achievements that it has make claims of ancient inventions in mythology to feel equal to other countries? We truly have some great minds in the country, but why do we not hear about them more often. Instead of making claims that India has achieved something long before, why not actually show off our genius minds by encouraging them.
In 2010, the Nobel Prize for physiology was awarded to two scientists whose research led to the birth of the first test tube baby in 1978. However, not many people know of the fact that the world's second test tube baby was born in India 67 days later. This research was conducted by Dr Subhas Mukherjeewho "along with Sunit Mukherji, a cryobiologist, and Gynecologist Dr Saroj Kanti Bhattacharya, worked on a method of in-vitro fertilisation that was used successfully on patient with damaged fallopian tubes".
Dr Mukherjee's website stated clearly that their method was different from the Nobel Prize winners.
Putting aside the fact that they did not get any global recognition, it took the Indian Council of Medical Research (ICMR) till 2002, to recognize Mukherjee's work. Even a film made on the doctor's life received an award. The government then in power did not give them proper support. In fact the government actually called his whole research rubbish which actually led to the suicide of one of the greatest minds of India.
If this is how India supports its scientists, what is the point of gloating about achievements in mythology?
Image credit: Photo L200603197842 image by Public.Resource.Org is licensed under CC BY 2.0
Image Reference: https://www.flickr.com/photos/publicresourceorg/27441076945
Recent Posts

Pay your loans, credit card bills, and other

PotHoleRaja developed GridMats technology and patented it.

To help farmers improve the shelf-life of their
What's new at WeRIndia.com