What did Modi and Trump talk?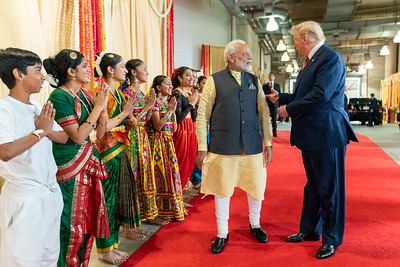 Indian Prime Minister Narendra Modi has just had his first meeting with the new United States president Donald Trump at the White House in Washington D.C.
In this meeting, Modi attempted to build a personal rapport and relationship with the president, including warm handshakes and even going as far as giving friendly hugs, twice. They made a statement together which vowed to put an end to terrorism, extremism, and radicalism.
The US President and First Lady both welcomed Modi to the White House, where he was then led to have a one on one conversation with the president. Afterwards, they held the delegation-level talks between their two nations.
Finally, they issued their joint statement, in which they talked about issues surrounding the economy, the world, and smaller regional issues.
They were especially adamant about the eradication of terrorism. Modi said it was a top priority for both India and the United States, while Trump assured that they would together end Islamic terror.
To aid this goal, Prime Minister Modi enforced that the two countries should have an exchange of intelligence in order to combat this growing global threat.
Modi and Trump also talked about strengthening the ties between India and the United States, both strategically and economically.
The two countries will be improving their partnerships in defense and technology more in the near future. Trump gave India praise for their excellent economic growth in recent times, and Modi expressed how they are both essential "global engines of growth".
Modi is certain that his vision for a "New India" will coincide well with Trump's pledge to "Make America Great Again", and plans to boost areas of trade, technology, and innovation.
Prime Minister Modi will return from this meeting with the hope that stronger ties with the world's most powerful nation will thus accelerate the growth of his own nation as well.
Image credit: Howdy, Modi! image by The White House (Public Domain Mark 1.0)
Image Reference: https://www.flickr.com/photos/whitehouse/48783751493
What's new at WeRIndia.com