Indo Americans demand Modi to discuss H-1B issue with Trump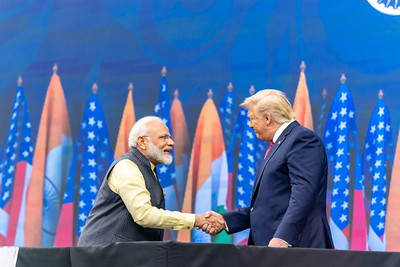 The Indian Prime Minister Narendra Modi has recently arrived in the United States of America for his first bilateral meeting with American President Donald Trump on Monday in Washington D.C.
He'll be raising various issues with the president, including the issues of the H-1B visa, defense cooperation, and terrorism. He arrived in the United States on Sunday, greeted by welcoming cheering and clapping from a group of people from India, waiting outside to see him walk by.
The people are hoping to see Modi raise the issue of the H-1B visas since so many Indian technology professionals are using them to get to the US from their companies back in their country.
Given that Modi is widely seen as a powerful, respected, and influential leader, most people have positive lookouts to the result of his meeting with Trump.
However, there is also concern that the proposal made by Modi will anger Americans, given the reports of attacks by Americans against Indians in the United States.
People are also hoping for positive results on the issues of defense and security measures, since the rising threat of terrorism places a large target on both nations.
The chair of the fundraiser committee of the Overseas Friends of BJP (or OFBJP), Aatma Singh, says that terrorism itself and cybercrime will also be major issues to be discussed in the upcoming bilateral talks.
Singh also enforces how, without the efforts of immigrated Indian workers, the American IT industry would not function nearly as well, implying that Modi will make that point in this meeting. Modi himself had said that he looks forward to this meeting, with it being opportunity to exchange in-depth views.
Singh says how the two countries share historic ties, and therefore expresses his hope that this meeting will strengthen the relationship between them in the years to come.
Image credit: Howdy, Modi! image by The White House (Public Domain Mark 1.0)
Image Reference: https://www.flickr.com/photos/whitehouse/48784109846/
What's new at WeRIndia.com